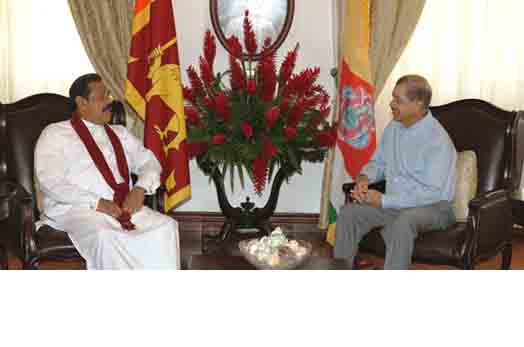 New Air Links To Act As Catalyst For Trade And Tourism
Sun, 30 June 2013
President James Michel received President Mahinda Rajapaksa of the Democratic Socialist Republic of Sri Lanka, at State House this morning. The two leaders discussed state affairs in a tête-à-tête meeting before joining a bilateral meeting, which was also attended by Vice-President Danny Faure, Ministers and other high officials from the Sri Lankan delegation.
 
The discussions centered on cooperation projects and agreements between Seychelles and Sri Lanka on matters of trade and Investment, air links, cooperation in the banking sector, fisheries, maritime, defense, education, health, tourism, energy, legal affairs, piracy and small industries development.
 
President Michel noted the importance for Seychelles and Sri Lanka to implement the blue economy concept and unlock the true potential of the Indian Ocean.
 
"Your Excellency it is with immense pleasure that I welcome you and your delegation to Seychelles. Your visit here in Seychelles is a landmark of friendship and strong collaboration developing within our two countries. We have made remarkable progress in our bilateral cooperation in many areas such as in education and training, defence, trade, fisheries, health, judiciary and renewable energy. Your visit will undoubtedly consolidate our relations and progress achieved. There is no better way to celebrate the anniversary of the 25 years of establishment of diplomatic relations between our two Indian Ocean states," said President Michel in his remarks.
 
During the meeting, President Rajapaska confirmed that SriLankan Airlines are keen to start flights to Seychelles this year and that the details of these new airlinks will be further discussed in the near future.
 
President James Michel welcomed the decision, adding that the airlinks would boost trade and tourism between Sri Lanka and Seychelles.
 
"The new flights will surely open doorways for business, tourism, cooperation and trade exchanges between Seychelles and Sri Lanka. Seychelles can become a gateway to Africa and other parts of the world. The airl links will be a catalyst to ensure increased cooperation between our two countries," said President Michel.
 
President Rajapaksa thanked President Michel for the warm welcome and hospitality extended to his delegation, adding that
 
"Is it a great pleasure and honour to be here in Seychelles. Your visit to Sri Lanka in August 2012 was a landmark event in our relations. We hope for stronger cooperation and avenues for new relations in other fields as well," remarked President Rajapaksa.
 
President Michel has conveyed his gratitude to President Rajapaksa for the contribution Sri Lanka is making in the Seychelles' sphere of development. He thanked President Rajapaksa for his country's sincerity and true friendship, adding that this state visit will give more impetus to the two countries' relations.
 
"Islands have a critical role to play in reforming and developing the World's multilateral architecture in order to build a fairer global order where all voices are heard  and can benefit from this. Islands are barometers for development and are today demonstrating global leadership in addressing sustainable development challenges and are inspiring other countries across the globe to do the same. We are among the most high-risk areas, which are likely to suffer disproportionately from the negative impacts of climate change. Sri Lanka and Seychelles needs to work closely together to make voices of the unheard heard. We can influence the shaping of the island countries and an example to the world," said President Michel.
 
Following their meeting, the two leaders witnessed the signing of three cooperation agreements between the Government of Seychelles and the Democratic Socialist Republic of Sri Lanka.
 
Editor's note:
•       Also present in the meeting:
Sri Lanka
Minister for External Affairs, Prof.G. L. Peiris, 
Minister for Sports  Mahindananda Aluthgamage
Minister for Minister of Public Relations and Public Affairs, Mervin Silva,
 
Seychelles
Minister for Home Affairs and Transport, Mr. Joël Morgan
Minister for Education, Mrs. Macsuzy Mondon
Minister for Foreign Affairs, Mr. Jean-Paul Adam
Ministry for Natural Resources, Mr. Peter Sinon
Minister for Environment and Energy, Professor Rolph Payet
Minister for Health, Mrs. Mitcy Larue
Minister for Tourism and Culture, Mr. Alain ST. Ange
High Commissioner of the Republic of Seychelles to the Democratic Socialist Republic of Sri Lanka, Mr. Waven William
Minister for Land Use and Housing, Mr. Christian Lionnet
Minister for Labour and Human Resource Development, Ms. Idith Alexander
•    In August 2012, President Michel paid a state visit to Sri Lanka, where the two presidents witnessed the signing of four Memoranda of Understanding on bilateral cooperation in health, education, employment and legal affairs.
•    The Visa Waiver Agreement between Seychelles and Sri Lanka was signed on 28th September 2012 entered into force on 22 April 2103, fostering people-to-people links.
•    The Sri Lankan Government has facilitated the recruitment of 32 Sri Lankan teachers and lecturers for the Seychelles education system. They are currently working in both secondary and post secondary institutions in multiple discipline.
•    Sri Lanka will be hosting the CHOGM summit scheduled to take place from 12th -14th November 2013 in Colombo.