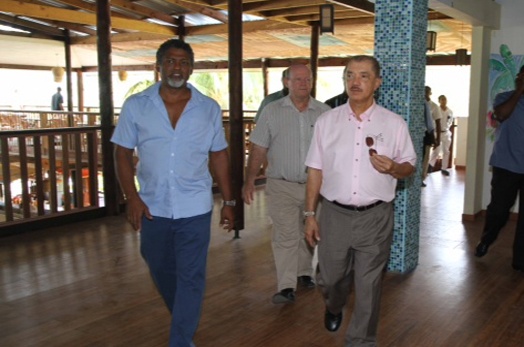 Small Establishments playing a key role in the tourism sector
Thu, 22 August 2013
President James Michel visited several small tourism establishments in the Beau Vallon and Bel Ombre areas of the north of Mahé this morning. The visit forms part of a series of visits the President is undertaking in different workplaces and districts.

The President said that the tourism sector will always stay an important part of the pillar in the economy and his vision is for Seychellois to take ownership of their economy in the different sector such as tourism, fisheries, agriculture and others.

"The aim of my visit is to give encouragement to the Seychellois entrepreneurs who have decided to participate in the development of the tourism industry by doing business and building as well as running small guesthouses.  I think this is very good and healthy for the economy; that we empower the Seychellois and they take this opportunity for them to be able to participate in the tourism industry and build their guesthouses, run them and also give the industry also the possibility to also develop in this range of products that they will provide to their clients" said President Michel in an interview with the local press.

There are presently 106 small establishments in the North of Mahé and Mr. Michel has expressed his satisfaction at seeing that more Seychellois entrepreneurs are taking the initiative to work and develop their ability in the tourism sector. He said that the large amount of guesthouses that have been built or are still under construction shows that Seychellois are interested in doing business, in doing project s that are beneficial for them as well as the restaurants in that area, in creating more employment and wealth for the country.

The President also highlighted that there are different facilities that the Government has put in place for someone who wishes to start a small tourism establishment such as facilitating credit  and access to land for lease or purchase, and eliminating bureaucracy that presently exists. He said that the creation of the new Department of Enterpreneurship Development and Business Innovation will support this facilitation.

"I was very impressed with what I saw and I think all the operators I spoke to said they are very happy and their business is working well and I would like to encourage other Seychellois who want to go in this line of business to take this opportunity that we have facilitated and see if they can participate in it and help to create wealth for themselves and for the country," said President Michel.

President Michel noted that there is still room for improvement in the north of Mahé by making it look more interesting and attractive as it is the main area where tourists and Seychellois comes to spend their time. Improvements would include safer pedestrian access, street lights, pavements for pedestrians and planting of more flowers, among others.

Editor's note:
-    The President was accompanied on the visit by the Minister for Tourism and Culture, Mr. Alain St. Ange, the Secretary General of the Executive Office of the President, Mrs. Lise Bastienne, Principal Secretary for Tourism, Mrs. Anne Lafortune, Former Chief Executive Officer of Seychelles Tourism Board, Mrs. Elsia Grandcourt, Tourism Product and Visitor Services Manager, Mr. Josh Cesar and other officials.

-    The President visited:
•    Treasure Cove hotel, which is owned by Mrs. Marie-France MacGregor;  a new tourism project still under construction
•    Casadani; a guesthouse owned by Mr. Danny Loiseau. He started the business in 2006. The establishment is well integrated with the residential houses in that area with 23 rooms.
•    Daniela'a Bungalows; owned by Mrs. Daniela Pillay. The business started in the early 90s and there are currently 5 bungalows with two rooms per bungalow.
•    Marie-Laure Suites; owned by Captain Edmond Hoareau. Set up in 2009, it has 9 apartments and 10 rooms.
•    Sable D'or Luxury Apartments; owned by Mrs. Vicky Lanza. The establishment was opened in June 2013 with a total of 7 rooms.
•    Clef de Îles/ Baobab pizzeria/Dive Centre. The Clef Îles is owned by Mrs. Marquise David and the establishment was set up in 2007. A guest house with 4 apartments with 8 rooms altogether. The Baobab pizzeria is owned by Mrs. Octavie Michel and the Blue Sea Divers by Mr. Sylvain Mortier.
•    Boat House Restaurant owned by Mr. Richard Mancienne. It was established in 1995.
•    Hanneman Apartments; owned by Mr. Manfred Mankelein. The establishment was opened in December 2009. It has 7 apartments with 10 rooms altogether.