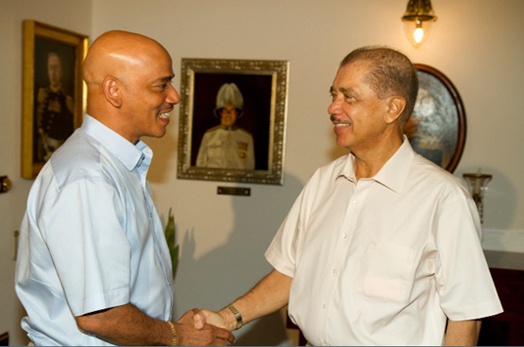 President meets with Opposition Leader
Thu, 24 October 2013
President James Michel met with the Leader of the Opposition in the National Assembly, Mr. David Pierre, this morning at State House, in order to discuss issues of national importance.

The President and Mr. Pierre discussed a variety of topics, including the latest developments in the economy, the legislature and society in general.

Mr. Pierre spoke of his proposal for a law reform committee which would consider new legislation that is needed following the ratification of international conventions and agreements, which would also ensure that Seychelles is up to date with its international obligations.

They also discussed the work of the  Government in its efforts to introduce new Immigration laws, following the President's announcements in the State of the Nation Address this year.

The President and Mr Pierre spoke about the positive developments in the health care system following the adoption of new laws for the creation of the Public Health Authority and the Health Care Agency.  Mr. Pierre said he supported these developments and was encouraged that his discussions with the President earlier in the year had been taken into account in the new structures.