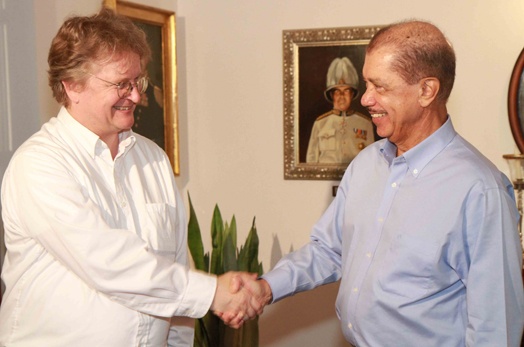 Seychelles Economy - A Tremendous Turnaround
Thu, 31 October 2013
President James Michel met with the IMF Deputy Director of the African Department, Mr. David Robinson, and the IMF mission chief for Seychelles, Mr. Marshall Mills, who is also Deputy Division Chief of the African Department of the IMF, at State House this afternoon.

President Michel thanked the IMF for its support during the five year economic reform programme, as it comes to an end this year. He said that Seychelles will continue to work with the IMF on other capacity-building initiatives in the future and find ways to improve the management of public resources.

" We always need to improve. The world is not static, it evolves and we have to evolve with it, and anticipate the weaknesses in our system and address them. We look forward to working with the IMF on other projects for the benefit of our public administration as well as our economic and development planning," said President Michel during the meeting.

President Michel and the IMF representatives discussed the progress made in the development and growth of the economy, the need for  further private sector empowerment as well as continuing to encourage a spirit of entrepreneurship, which the economic reform programme had created.

Mr. Robinson commended Seychelles for its achievements in reform of the economy and the government institutions involved in this process, and assured the President that the IMF would continue to work with Seychelles on other key projects.

"The main purpose why I'm here is because we have reached five years of the economic reform programme. What we have been doing here and in my discussion with the President was really to focus on what has been achieved. I think when you look back at where the economy was five years ago, the turnaround has really been quite tremendous. We have been looking about what has happened and also the agenda going forward. ...We will have to map out and discuss how we go forward and how best we can do it," said Mr. Robinson, during a brief statement to the press.

Present during the meeting were also the Minister for Finance, Trade and Investment, Mr. Pierre Laporte, the Governor of the Central Bank, Ms Caroline Abel, the Secretary General of the Office of the President, Mrs Lise Bastienne.