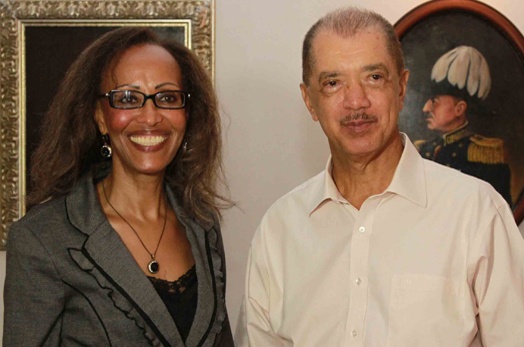 ADB Expresses Support To Seychelles
Tue, 12 November 2013
President James Michel met with Dr. Mulu Ketsela, the newly-appointed Executive Director for the Eastern African Constituency at the African Development Bank, at State House this morning.

The President thanked the ADB for its support during the Seychelles economic reform programme, and they discussed the outcomes of the reforms and their impact on the economy and society in general. Dr Ketsela commended Seychelles on the successful implementation of the economic reform programme and reiterated the ADB's support for future development projects, which are currently under discussion with the Ministry of Finance, Trade and Investment.

Dr Mulu Ketsela is visiting Seychelles from 12 to 16 November, and then will continue to visit other countries which form part of her constituency. Dr Ketsela was elected as Executive Director for the Constituency at the African Development Bank's annual meeting which took place in Marrakesh, Morocco in May 2013 for a 3 year period. She replaces Ms Mary Muduuli whose term ended earlier this year.

Editor's Note
• Also present at the meeting were the Secretary General in the Office of the President, Mrs Lise Bastienne, and the Principal Secretary for Finance, Patrick Payet.