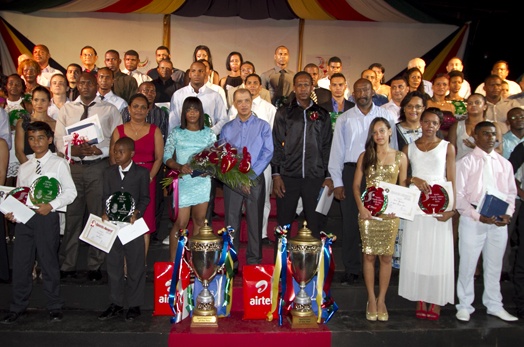 The best in Seychelles sports 2013
Sat, 01 February 2014
Clementina Agricole, weightlifter, and Dominic Dugasse, judoka, are the Sportwoman and Sportsman of 2013, both winning the titles for first time.
They were presented with the titles by President James A Michel during the 30th sports awards ceremony held at the National Sports Council (NSC) Hall, Roche Caiman last night.
Clementina Agricole made a smooth comeback in weightlifting last year and was the 58th weight class silver medallist at the Commonwealth Weightlifting Championship in Penang, Malaysia. Furthermore, she finished with an Olympic total of 190kg (85kg in snatch and 105kg in clean and jerk) to win the silver medal behind the gold medallist from Nigeria.
As for Praslinois Dominic Dugassse, this was the fourth consecutive year that he was chosen for the best male judoka. 2013 has been rewarding for Dominicas he won the 100kg category gold medal at the Africa Open Championship in Mauritius. He also performed well in the same category at the International Judo Tournament organised by the Seychelles Judo Federation. He was ranked fifth in the under-100kg class at the African Senior Championship but finished seventh at both the European Cup in Germany and the Bondie Cup in France. Furthermore, Dominic also participated in the Grand prix in Paris, France, the World Senior Championship in Brazil and the Abu Dhabi Grand Prix where he was ranked 54th worldwide.
The Designated Minister, Minister for Social Affairs, Community Development and Sports, Vincent Meriton said that 2013 was a year of excitement for all Seychellois athletes at events held locally or at international level.  He pointed out that athletes have succeeded in winning 8 gold medals in athletics at the CJSOI held in Reunion, that both male and female Seychelles volleyball teams qualified to participate in the African qualifiers for the World Cup, the male volleyball team from Beau Vallon was crowned Champion of the Indian Ocean, judoka Dominic Dugasse won the African Open Championship, and in Badminton the women's doubles were the winners of the African Championship among others achievements.
"Let us overcome all obstacles. Use the same determination that have lead us to much success in past so that we can gain more victories  in the future," said Minister Meriton at the award ceremony.