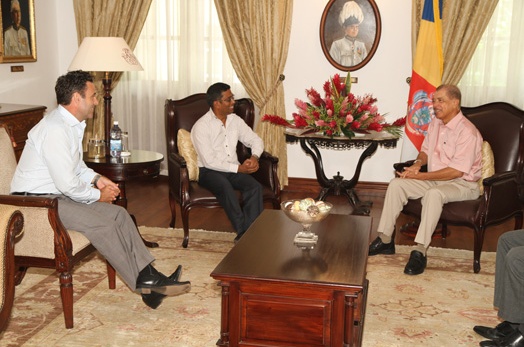 Air Seychelles has a very bright future
Thu, 27 February 2014
President James Michel met with the outgoing CEO of Air Seychelles, Cramer Ball, and newly appointed CEO, Manoj Papa, at State House this morning. The Minister for Home Affairs and Transport Joel Morgan was also present.

President Michel thanked Mr. Ball for his two-year tenure and congratulated him on a 'great job' in leading Air Seychelles to profitability. In February 2013, the airline was able to report a net profit of US$ 1 million, a remarkable turnaround after three consecutive years of losses. The year culminated in the airline receiving the prestigious four-star rating from Skytrax.

Mr Ball thanked the President for his support and his vision to bring changes to the airline.

"There have been some incredible moments, and I'm very proud to say, as the outgoing CEO, that I've been part of a wonderful team, a wonderful family with the Air Seychelles team...Air Seychelles has a huge opportunity and a very bright future," said Mr Ball.

Mr. Michel also welcomed the new CEO to Seychelles and expressed confidence that he would create new partnerships for the national airline in order to expand its routes and consolidate its achievements so far.

" I'm quite excited to pick up on the results of the team.. the results, the turnaround has been amazing and I think the challenge for me and my team is to build that to the next level.... Although we are a four star airline, we need to behave like a five star airline in everything that we do...we have the chance of positioning ourselves as the best airline in Africa... and as we grow, globally, " said Mr. Papa.

South African national Manoj Papa joins Air Seychelles from South African Airways, where he held the position of Acting General Manager: Commercial. Previously he worked for Etihad airways

South African Airways is currently ranked the best airline in Africa, while Air Seychelles is in second position.

Air Seychelles has a strategic partnership with Etihad Airways, the national airline of the United Arab Emirates, which is a 40 per cent stakeholder.