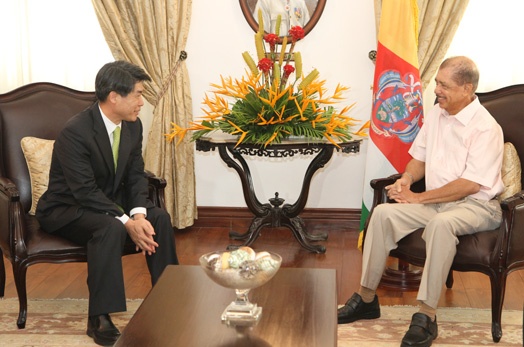 Seychelles to take another step in consolidating its economy
Tue, 11 March 2014
The new International Monetary Fund (IMF) Executive Director for Seychelles, Mr. Jong Won Yoon paid a courtesy call on President James Michel this morning at State House. He was accompanied by the International Monetary Fund Chief of Mission for Seychelles, Mr. Marshall Mills.

The IMF delegation briefed the President on the mission's new findings in the development of the economy of Seychelles since last year's review and also gave recommendations for future steps.

President Michel has thanked Mr Won Yoon for his support as the new Executive Director and extended his gratitude to the IMF during the economic reform programme implemented by Seychelles in 2008. He said that the Government of Seychelles is looking forward to working together with the IMF and the World Bank in the implementation of a new programme.

"Our reform has been a success, we appreciate the support of the Fund and other partners such as the World Bank, the African Development Bank and the European Union. There is a need for us to consolidate these successes, this is why I have insisted for us to have another programme so we can further consolidate what we have achieved so far . We need more assistance in capacity building in revenue collection, auditing and statistics. Statistics is very important for planning and programming for the future as well as in other areas to consolidate transparency, good governance, accountability ... I think it is key for future stability," said President Michel.

Speaking to the national press after the meeting, Mr. Won Yoon said that his meeting with the President focused on the possibility for another Extended Fund Facility (EFF) programme with IMF base on the findings of the IMF mission team.

"The mission team came to Seychelles weeks ago and they had very good discussions with the Authorities and they will be giving their proposals to the International Monetary Fund. The Executive Board will discuss these proposal in two months. So if it is successful, then it will be a very good opportunity for the Seychelles  to consolidate the existing gains in macro-economic stabilisation and it is also a very good opportunity for the pursuit of structural reforms," explained Mr.  Won Yoon.

He commented that the first reform programme over the last five years had been very successful and stabilised the economic base under the good leadership of President Michel.

Editor's note:
•         Also present during the meeting was the Minister of Finance, Trade and Investment, Mr. Pierre Laporte, the Secretary General of the Office of the Executive Office of the President, Mrs. Lise Bastienne, the Governor of the Central Bank of Seychelles, Ms. Caroline Abel, the Advisor to the Executive Director, Ms. Nghi Luu and the IMF Senior Economist for Seychelles, Mr. Tobias Roy.