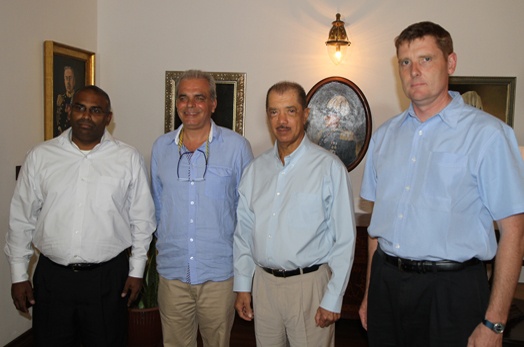 UNODC committed to assist Seychelles in fight against drug use
Tue, 06 May 2014
President James Michel met with the new UNODC regional representative  for Eastern Africa Jose Vila Del Castillo, and the regional coordinatior for the UNODC  Maritime Crime Programme Alan Cole, at State House this morning.
Mr. Jose Vila Del Castillo spoke to the President about the UNODC priorities in its assistance to Seychelles, including anti-piracy work, drug rehabilitation and capacity building.
President Michel said that his government is committed to establishing drug rehabilitation programmes where drug users can fight their addiction and learn new skills, which are currently being implemented by the health and home affairs ministries.
Following the meeting, Mr. Alan Cole spoke to the local media and said the UNODC plans to give further assistance to Seychelles as part of its ongoing cooperation.
"There is much else that the UNODC and Seychelles can do together and we are particularly going to work with Seychelles on the issue of intravenous drug use, particularly amongst the young, and try to see what we can do jointly, with the ministries here, to try and reduce drug use in Seychelles."
Mr. Cole also commended the anti-piracy cooperation between the UNODC and Seychelles in the last four years.
"The accomplishment of the programme is establishing a unique prosecution model here, which involves international navies and the Seychelles Coast Guard, detaining suspected Somali pirates, transferring them here for trial..(..)... and we tranfser them back to Somalia to serve their prisons sentence, so the Seychelles taxpayers don't bear the burden  for their continued incarceration," said Mr Cole.
Present during the meeting were also Minister for Home Affairs and Transport Joel Morgan , Minister for Foreign Affairs Jean-Paul Adam, and the President's Diplomatic Adviser, Ambassador Callixte d'Offay, and UNDOC programme office Shanaka Jayakekare.