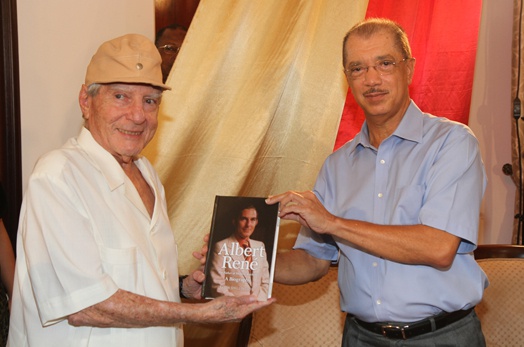 President Michel launches the book: 'Albert René - The Father of the Modern Seychelles'
Tue, 03 June 2014
President James Michel has launched the book entitled 'Albert René – The Father of the Modern Seychelles' at State House this morning. The first full length biography analyses Mr Rene's early years, political awakening, and his struggle against colonialism, which was written by Dr. Kevin Shillington, a British historian.
During the book launch, President Michel traced President Rene's inspiration and his vision for a better life for the people of Seychelles where there is justice, freedom, fraternity and equality.
"The foundation of the Seychelles People's United Party by President France Albert René opened a new chapter in the history of Seychelles. It is thanks to him that Seychelles achieved independence. Under his leadership, the people of Seychelles gained freedom and respect. They recovered their dignity. Under the leadership of France Albert René a new social order was established. An equitable one, providing for equal rights for all Seychellois, free health care, decent housing, free and compulsory education, a safety net for the more vulnerable members of our society, protection for our children and the elderly," said President Michel.
Mr. Michel described President René as, "A man of few words, but given to deep reflection. A man of vast experience and wisdom, but also of wit.. But I also know him to be a man of deep conviction – uncompromisingly so – and demanding where loyalty, commitment and devotion to the cause of Seychelles is concerned. A canny leader, obstinate and sometimes impatient… Last, but not least, I know of France Albert René as a courageous patriot and a true son of Seychelles".
President Michel also highlighted his reasons and support to Dr. Shillington's project in the publication of this book.
"But as a close associate of his, I felt that the story of the man and his accomplishments needed to be told from a somewhat different perspective.  From a different vantage point to bring him closer to the hearts of all Seychellois, revealing in the process – to some extent – the complexities of his character, his strengths and his frailties, his triumphs and tribulations, his zest for life and his passion and enduring love for Seychelles… This needed to be recorded for posterity. This much – and much more – we owe him," he said.
He commended Dr Shillington for the 'impressive biography' and thanked Vice President Danny Faure for his considerable help in the coordination of the project locally as well as other individual for their contributions.
President Michel ended his speech by presenting President René with the book.
"President René, This is your story and very much the story of the land that you love so much. The land, whose modern history, you have played a significant part in shaping. I present to you, as a measure of our deep respect, gratitude, esteem and affection for you YOUR book. YOUR story. The story of France Albert René".
The launch event was attended by Vice-President Danny Faure, a great number of dignitaries as well as friends and family of President Albert René.