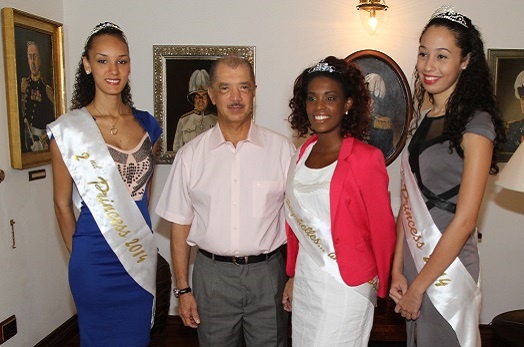 President Michel meets Miss Seychelles…Another World 2014
Thu, 10 July 2014
President James Michel met the newly crowned Miss Seychelles… Another world 2014, Camila Estico, this morning at State House. She was accompanied by the First and Second Princesses, Lisa Rose and Marvel Godley.
Also present at the meeting were the Minister for Tourism and Culture, Alain St Ange and the Chief Executive Officer for the Seychelles Tourism Board, Sherin Naiken.
The President congratulated the three ladies, who are originally from Praslin island, saying that they made the Praslinois proud of their achievement and that he hoped they would make the most of the opportunity to develop their talents and to promote Seychelles.
Camila Estico will represent Seychelles at the 64th Miss World Beauty Pageant, which will be held in London in December 2014.
"I wish you every success in the Miss World pageant, I am sure you will make Seychelles proud! Also when you participate in tourism trade fairs around the world, take the opportunity to show the world the many reasons why people should visit our beautiful islands," said President Michel.
During the meeting the three beauty pageant winners discussed their future career plans with the President, as well as their dreams and aspirations for the projects they plan to implement as part of their Miss Seychelles pledge.
In an interview with local press after the meeting, Ms Estico said that in the coming months she would focus her energy making her community project a success.
"I am working with a team to put together a plan for an anti-obesity project, especially with school children and I will make it public soon. My end goal is to change our eating culture, the way we eat, so we can become a healthier nation," said Ms. Estico.
Lisa Rose is working on project for the prevention of coastal erosion project on Praslin, while Marvel Godley is also working on an environmental project on Mahe.