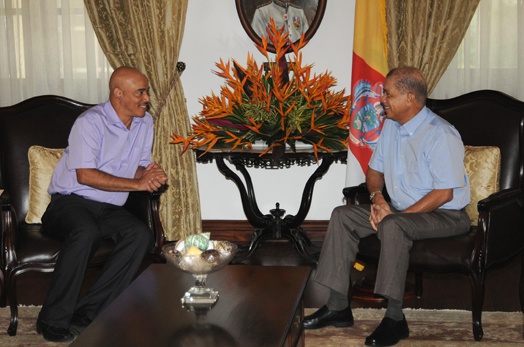 President Michel and Leader of the Opposition in the National Assembly meet to discuss National Issues
Thu, 14 August 2014
President James Michel met with the Leader of the Opposition in the National Assembly, Mr. David Pierre, this morning at State House, in order to discuss issues of national importance.

The President and Mr. Pierre discussed developments in the economy, tourism, education, health care, labour, law reform and the Police.
They spoke of about the need for the tourism industry to continue to diversify its offers new and emerging markets, and also prepare to welcome new clients from countries such as China and India.
They discuss the reforms taking place in the public health services and agreed that these are on 'the right path.'
Mr. Pierre spoke about the country's growing need for foreign labour while adding that Seychellois workers needed to be given priority in the workforce while at the same time being encouraged to take responsibility for their work and to show more professionalism.
He also called for the Ministry of Education to increase discipline in schools.
The President and Mr Pierre also spoke about the electoral law reforms being prepared as well as the constitutional law reforms, both which were considered in Cabinet meetings recently.
Mr. Pierre also said that he asked the President to increase training and professionalism in the Police force.