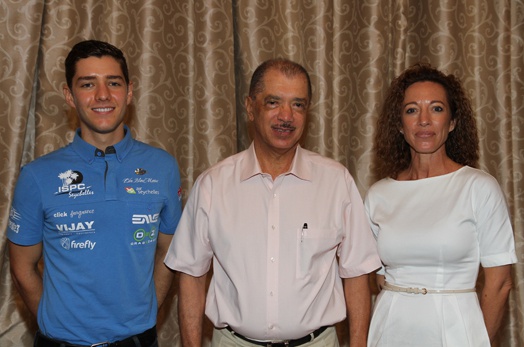 President Michel receives Seychellois professional triathlete
Mon, 13 October 2014
President James Michel received Seychellois professional triathlete, Nick Baldwin, at State House this afternoon. Nick was accompanied by his mother, Mrs Jenny Baldwin. Also present at the meeting were the Minister for Community Development, Social Affairs and Sports, Mr. Vincent Mériton, the Secretary General of the Office of the President, Mrs. Lise Bastienne, representatives of Nick's sponsors, namely ISPC Seychelles, DIY Seychelles, Vijay Construction and Air Seychelles.
President Michel commended Nick for his excellent international rankings. "Your achievements have brought much pride to Seychelles," said the President. "Being ranked third in Ironman Australia 2014 is a remarkable result. You have been promoting good values throughout your ambitious development as a professional triathlete," added the President.
President Michel also urged Nick to share and promote those values with the Seychellois youth. He took the opportunity to thank the triathlete's sponsors for their support that has led to such accomplishments and would bring more and even better results in the future.
Nick Baldwin, who is the first and only professional triathlete to represent Seychelles, spoke about his specialty as a full time professional triathlete. He gave a review of his 2014 season and outlined his vision for the 2015 schedule. "It is a privilege for me to represent Seychelles and to raise the national flag," he said.
Speaking to the national media after his meeting with the President, Nick said that he was very pleased with his progress achieved in 2014. He noted that his plans for 2015 involve participating in competitions internationally, primarily in the Americas, as well as aiming to qualify for the Ironman World Championships to be held in Kona, Hawaii.
"I am very fortunate to have a number of local sponsors here in Seychelles who support me – ISPC Seychelles, Eden Island Marina, Vijay Construction and Air Seychelles. I am very grateful for their support that has enabled me to represent Seychelles internationally. And I am very pleased to announce that in 2015, DIY Seychelles will be joining my list of sponsors to help me achieve my objectives and qualify for the World Championships," said Nick Baldwin.
Through his achievements as a triathlete, Nick hopes to inspire the youth of Seychelles to pursue an active and healthy lifestyle, with sport being an integral part of that.