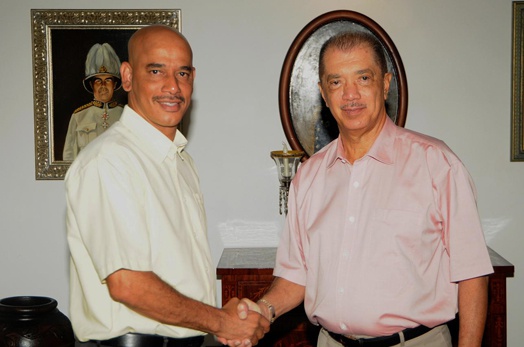 President Michel meets Leader of the Opposition
Thu, 23 October 2014
President James Michel met with the Leader of the Opposition in the National Assembly, Mr. David Pierre, this morning at State House, as part of their regular schedule of meetings to discuss issues of national importance.
The President and Mr. Pierre discussed the economic situation of the country as well as measures which could be envisaged to mitigate the effects of depreciation of the Seychelles Rupee, and the need for the Government to intensify its efforts in attracting more foreign direct investment (FDI).
They discussed the necessity for the tourism industry to continue to diversify its offers to new and emerging markets, and also to prepare to welcome new clients from countries such as China, South Africa, India and other countries. Mr. Pierre expressed his concerns regarding the Ebola outbreak, pointing out the necessity to have high prevention and control measures against the virus so that no one in Seychelles gets infected.
The President and the Leader of the Opposition also exchanged views on the renewable energy sector, with Mr. Pierre referring to a piece of information brought before the National Assembly by the Minister of Finance, Trade and Investment, Mr. Pierre Laporte on this topic. He felt that based on the information given, the government is spending too much money on buying fuel and suggested to the President that the country needs to invest more in renewable energy through solar farms or other means. Mr. Pierre noted that it was also important to educate everyone on how energy can be better saved and to have items that preserve and use less energy.
President Michel and Mr. Pierre furthermore spoke about the three Seychellois who are facing the death penalty in Egypt after being convicted of drug trafficking and losing their appeal. Mr Pierre commented that the death sentence imposed affected the whole country; he commended the President for the efforts undertaken by Government to seek clemency for the three Seychellois.
Another important issue raised was the need for an anti-corruption commission. Mr. Pierre said the motion on anti-corruption measures had been brought to the National Assembly proposing that there be an anti-corruption commission with its own laws that deals with the issue of corruption in Public sector.