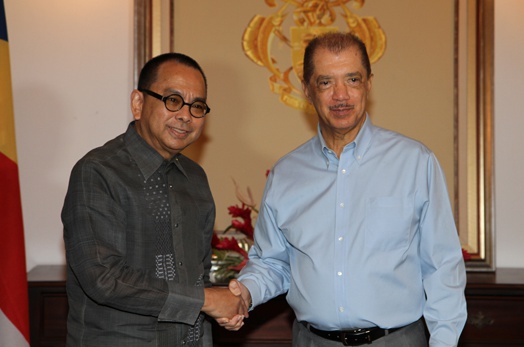 Climate change at the centre of discussions between Seychelles and Philippines as new Ambassador is accredited
Tue, 09 December 2014
The sixth Ambassador of the Republic of Philippines to Seychelles, Mr. Bayani  V. Mangibin presented his credentials to President James Michel at State House this morning.
The President congratulated and wished Ambassador every success during his new tenure. He took the opportunity to extend his sympathy to the government and people of the Philippines following the devastation caused by  Typhoon Hagupit this week and hoped that those affected would be able to recover and rebuild their lives soon.
After the accreditation ceremony Ambassador Mangibin told the national media that his discussion with the President centred on cooperation that will further develop the different sectors which are of mutual interest to both countries such as the Blue Economy concept, climate change, tourism, fisheries, and medical tourism.
"We followed up on cooperation that was already discussed at the first Seychelles-Philippines Joint Committee meeting that was held here in Victoria last October 2013. This is our agenda for strategic partnership and because the similarity of our geography, we have a very close interest in tourism and fisheries. We have also discussed cooperation in the area of climate change, as we are hoping that we can alleviate the adverse effects of the negative development of climate change. We are also looking at ways on how to promote our industrial cooperation between small and medium enterprises, because that's one area in the Philippines that has helped us in our development… so we would like to share our experiences in such a way that both of us can really develop a greener economy," said Mr. Mangibin.
Also present during the meeting were the Principal Secretary for Foreign Affairs, Ambassador Loustau Lalanne and the President's Diplomatic Adviser, Ambassador Callixte D'Offay.
Ambassador Bayani Mangibin is based in Nairobi, Kenya.