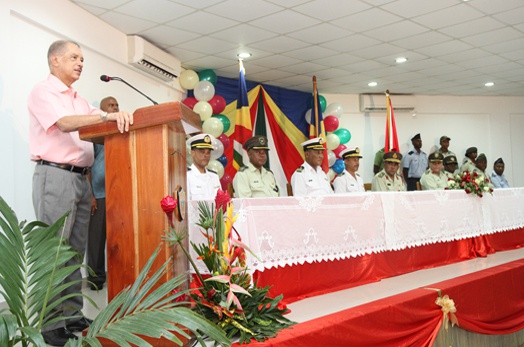 President Michel starts New Year Day with traditional SPDF gathering
Thu, 01 January 2015
During the traditional Seychelles People's Defence Forces New Year's Day gathering, President James Michel opened the celebrations this morning at the Seychelles Coast Guard base at Ile du Port.
President James Michel addressed the officers of the SPDF, in his capacity as Commander-in-Chief of the Armed Forces, with words of thanks for their hard work, loyalty and professionalism in 2014.
He said that the SPDF are the pride of Seychelles and a shining example in the Indian Ocean, always putting Seychelles first as a priority.
Mr. Michel asked the SPDF to continue to keep the peace, unity and stability of the country in 2015, by protecting its sovereignty and ensuring discipline and good values within the armed forces.
Two officer cadets who have completed the Military Young Leaders Programme, Gerry Boniface and Daniel Agnes, were commissioned by the Commander-in-Chief, during the ceremony.
The celebration was attended by the Chief of Defence Forces, Brigadier Leopold Payet as well as high ranking officers of the SPDF, and all the units of the Armed Forces.