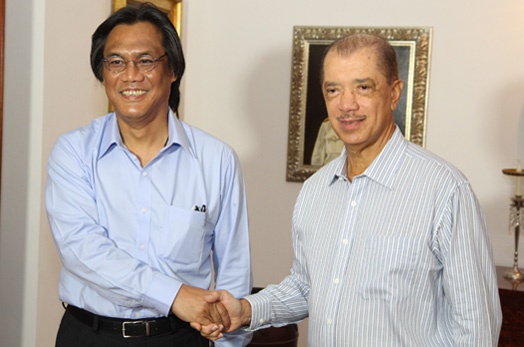 Thai Ambassador bids farewell
Tue, 27 January 2015
The Ambassador of the Kingdom of Thailand to Seychelles, H.E. Mr. Ittiporn Boonpracong, paid a farewell call on President James Michel at State House this morning following a two and half year tenure based in Nairobi.
President James Michel thanked Ambassador Boonpracong for his support and contribution to promoting better relations between Seychelles and Thailand, notably in the sectors of tourism, investment and trade, which he said had great potential.
The President and Ambassador Boonpracong reviewed various areas cooperation that can be developed in the future by the two countries.
Ambassador Boonpracong said that the relationship between Seychelles and Thailand has improved and that he hopes that the relations will reach to a higher level in the future.
Also present at the meeting was the President's Diplomatic Adviser, Ambassador Callixte D'Offay, the Technical Adviser to Minister for Foreign Affairs, Mr. Philippe Michaud, and the Honorary Consul for the Kingdom of Thailand to Seychelles, Mr. Joe Chung-Faye.