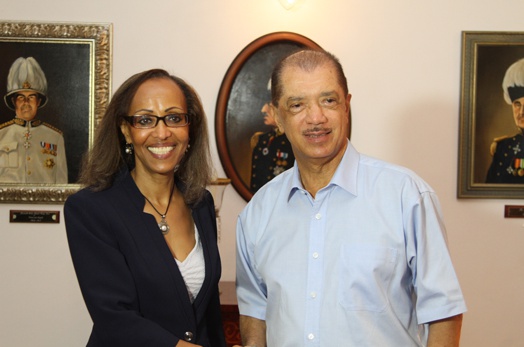 President Michel meets with the Executive Director of the African Development Bank
Tue, 23 June 2015
The Executive Director of the African Development Bank (AfDB), Dr Mulu Ketsela, paid a courtesey call on President James Michel at State House today. Dr Ketsela is on an official consultative mission here in Seychelles. Present at the meeting was the Minister of Finance, Trade & the Blue Economy, Mr. Jean-Paul Adam, the Governor of Central Bank of Seychelles, Ms. Caroline Abel and the President's Diplomatic Adviser, Ambassador Callixte d'Offay.
The President thanked Dr Ketsela for coming to Seychelles and for all the support AfDB has given to the Seychelles in the past until now.
"Your support at the bank will not only help to promote the concept, but also for the work that has to be done to make it a reality, especially with the funding of small projects, this is where we will need support. We need your assistance in promoting business innovation and the small businesses so that they can benefit from various models of the Blue Economy, including perhaps opportunities in marine culture study," said the President.
Dr Ketsela, briefed the President on the fruitful meetings she has had so far with the Minister of Finance, Trade & the Blue Economy as well as the Governor of Central Bank and how to promote the interests of Seychelles at the Board during the next discussions at the African Development Bank. She commended the President for the stability of Seychelles economy.
In an interview with the local press, Dr Ketsela said that she has leant a lot since her arrival here, especially on the Blue Economy concept among other issues.