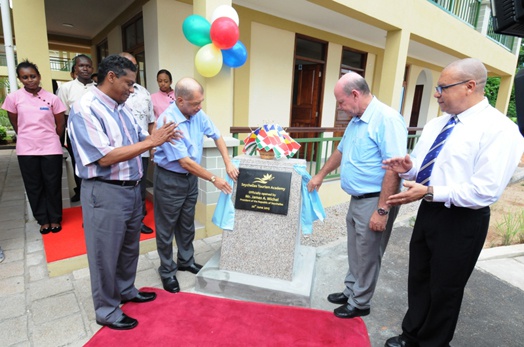 President Michel officially inaugurates first phase of new Hotel and Tourism Academy
Sat, 27 June 2015
President James Michel unveiled the plaque to officially inaugurate the buildings of the first phase of the new Hotel and Tourism Academy at La Misere, yesterday.
The inauguration took place in the presence of Vice-President Danny Faure, Minister for Tourism and Culture Alain St Ange and the academy's principal Flavien Joubert as well as members of the diplomatic corps, members of the National Assembly (MNAs), members of the National Celebrations Committee and of the Seychelles Hospitality and Tourism Association (SHTA) as well as lecturers and students.
The new facilities include modern and well-equipped classrooms, an Information and Communication Technology section, a specialised library, office space and a modern kitchen and new restaurant.
In a speech, Minister St Ange said  that under the leadership of President Michel, the country has been able, added to an inter-ministerial committee which permits discussions with other government sectors of the tourism trade, to establish a perfect public-private partnership which involves the SHTA and private operators. The Minister said that he believes that this has helped the trade deliver on the President's vision to take back our tourism industry.
"These types of operations are an example to other countries in the world," Minister St Ange said, adding that "government has realised that if we want to keep our five-star status as a tourist destination, we must invest in necessary facilities."
"There is nothing best to learn in the atmosphere that Seychelles offers the best," he said.
The Minister noted the STA is, with the help of the French government, the first educational institution in the country to offer half of its courses in French and half in English. He said that in the spirit of regional cooperation in the field of tourism, the relations with France and its Indian Ocean dependencies of Reunion and Mayotte will continue.
He also thanked Mr. Joubert for, with its partnership with Shannon College in Ireland, producing quality students for the trade.
The Principal of the academy said  that as the building was being built, the STA has equipped itself in quality human resources through heavy recruitment and an intensive training programme locally as well as overseas, in order to build up a 100% team of Seychellois lecturers.
Work on the second phase of the construction of the new Seychelles Tourism Academy building will include the construction of a training hotel with separate villas, banqueting centre, spa and wellness centre, reception area and dormitories for staff and students.