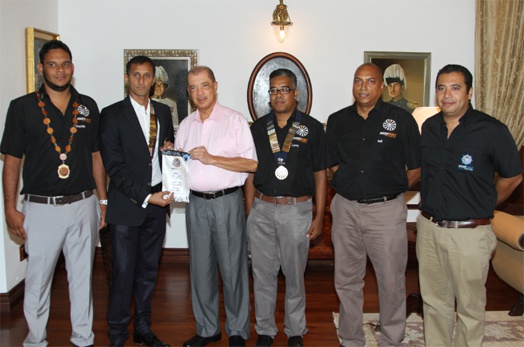 President Michel meets with the President of Round Table International
Fri, 25 September 2015
The President of Round Table International, Mr. Altaf Jeevunjee, paid a courtesy call on President James Michel this morning, together with the President of the Seychelles Round Table Association, Mr. Shantilal Dhanjee, the Chairman of Seychelles Round Table No.2, Mr. Lenny Gabriel, the Vice-Charman of Seychelles Round Table No. 2, Mr. Neil Puresh, and Honorary Tabler, Mr. Dan Fontaine.
The President commended the Seychelles Round Table and the good work it is doing in Seychelles. They spoke about the possibilities for future activities they are planning.
" The Seychelles Round Table members  are very active, very energetic....I congratulate you for all the work you are doing for the less fortunate in society. The Government will continue to support you in your noble mission," said President Michel during the meeting.

Mr Altaf Jeevunjee, who is also the President of Round Table Sri Lanka, and his delegates briefed the President on the Round Table's origins, expansion and activities around the world.
The President of Round Table Seychelles, Mr. Shantilal Dhanjee thanked the President for the support of the Government to Round Tables Seychelles and its projects.
The Chairman of Seychelles Round Table No. 2, Mr. Lenny Gabriel, spoke to the President about the profound effect the charitable organization can have in the lives of people, when they need assistance, especially with those needing medical assistance.
Today, Round Table Seychelles is launching the first day of its annual 'Regatta' weekend of fundraising activities. This year one of the projects that will benefit from the proceeds of the Regatta will be a five-year vaccination programme against pneumonia with the aim to eradicate this disease in Seychelles.
This August, Round Table Seychelles was awarded the "Club of the Year" award, a prestigious prize presented to the Seychelles club by the Round Table International (RTI) at the club's world meeting in Sweden.