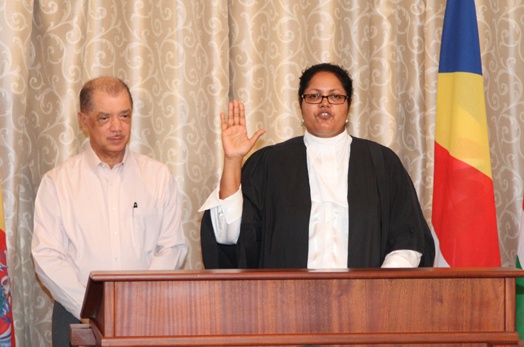 Master of the Supreme Court of Seychelles is sworn into office
Fri, 09 October 2015
Ms Ellen Carolus was sworn into office as the Master of the Supreme Court of the Republic of Seychelles in a ceremony at State House this morning.
She took the Oaths of Allegiance and the Judicial Oath before the President of the Republic, Mr. James Michel, and in the presence of the Vice-President, Mr. Danny Faure, the President of the Court of Appeal, Justice Francis MacGregor, the Deputy Speaker of the National Assembly, Hon. Andre Pool,  Judges and Justices of the Supreme Court and the Court of Appeal, the Chairperson and Members of the Constitutional Appointments Authority, the Attorney General, members of the family of the Master, as well as senior officials in the Office of the President.
President Michel congratulated the Master Carolus and noted that her expertise and diligence would certainly contribute to the improvement and efficiency of the Seychelles judiciary.
" My appointment to the Judiciary is a great honour for me, as the Judiciary is an institution that has an important role, and I am proud to belong to it. It is a way for me to serve my country and the Seychellois people. For my professional career, it is also a big step forward and this makes me very happy," said Ms Carolus in an interview with local media after the ceremony.
The Master of the Supreme Court is a procedural judge. For example, when a court case is filed, it may be "mentioned" before the Master, who may set dates for the hearing before a judge, and undertake procedural matters related to this.  She can rule on cases such as the non-contested divorce cases, uncontested appointment and confirmation of executors, and all matters of pleadings and procedure up to the stage of hearing, in civil cases, and such other matters as determined by the Chief Justice, as provided for in the Constitution.
The post had remained vacant since its separation from the functions of the Registrar of the Supreme Court in 2008.
Ms. Carolus' appointment followed the recommendations made by the Constitutional Appointments Authority to the President of the Republic.
Ellen Carolus holds a Bachelors Degree in Law from the University of Mauritius, and was admitted to the Bar in 2002.In 2003 she was employed in the Department of Legal Affairs as State Counsel, and rose to the rank of Principal State Counsel.
She has attended specialist training courses in legal drafting organised by the Commonwealth and by the Legal Training Institute of Malaysia.Ms Carolus has been practising as an Attorney-at-Law in the Supreme Court of Seychelles from 2009, and has also served as the Director of Legal Affairs in the Fair Trading Commission, as well as legal consultant on various projects.
Her most recent appointment was as Legal Counsel to the SACOS Group.She has been a full member of the Commonwealth Association of Legislative Counsels since 2012.