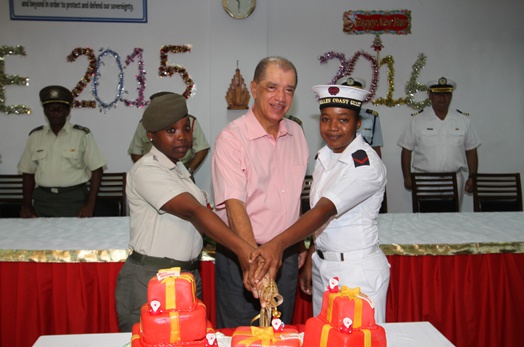 President Michel attends SPDF gathering for New Year's Day celebrations
Fri, 01 January 2016
President James Michel attended the traditional Seychelles People's Defence Forces New Year's Day gathering this morning at the Seychelles Coast Guard base at Ile du Port.
President James Michel addressed the officers of the SPDF, in his capacity as Commander-in-Chief of the Armed Forces. The President thanked the officers for their hard work, loyalty and professionalism in the protection of the country and safeguarding of its sovereigntyin 2015.
He said the Seychelles was known around the world for its peace and stability, and noted the good work of the SPDF in keeping peace, unity and stability of the country.
The President noted that there are persons who were inciting instability in the country and he cautioned  against this kind of behaviour, which would impede the progress of the country.
Mr. Michel said that it is important to protect the order of the country, for all Seychellois to love their country and to ensure it remains peaceful and stable.
The celebration was attended by the Chief of Defence Forces, Brigadier Leopold Payet as well as high ranking officers of the SPDF, and all the units of the Armed Forces.