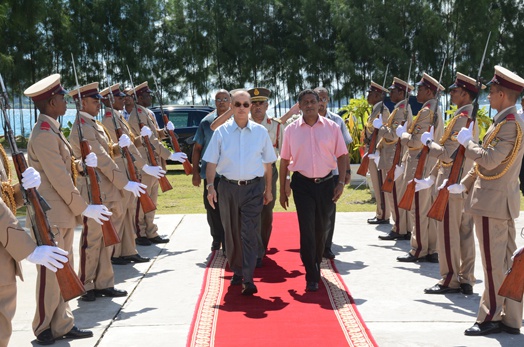 President Michel attends Promotion Ceremony of officers of the Seychelles People's Defence Forces
Fri, 04 March 2016
President James Michel, the Commander-in Chief of the Armed Forces, attended a ceremony for the promotion of 28 officers of the Seychelles People's Defence Forces (SPDF) at the Seychelles Coast Guard Base, Ile du Port, this morning.
It was also attended by Vice-President Danny Faure, the Chief of Defence Forces, Brigadier Leopold Payet, the President's Military Adviser, Col. Clifford Roseline and senior officers of the SPDF.
President Michel presented the promotions to the senior officers, which included the rank of Colonel for Lt. Col. Michael Rosette, Lt. Col Joe Ragain, and Lt. Col. Simon Dine. Although not present for the ceremony, Lt. Col. Andre Ciseau was also promoted to rank of Colonel.
Maj. Michael Pouponneau, Maj. Jean Attala, Maj. Louis Agathine, Maj. Raymond Athanase and Maj. Vincent Luther were promoted to the rank of Lieutenant Colonel.
Capt. Tom Esticot, Capt. Joachim Cadeau and Capt. Margaret Louise were promoted to the rank of Major.
The Chief of Defence Forces, Brigadier Leopold Payet, presented new ranks to the junior officers.
In his address, Brigadier Payet thanked the officers for their hard work, dedication and loyalty, and said that in 2015 there were many positive developments and improvements in the Defence Forces capabilities including new assets, equipment and training. The SPDF also took part in several regional and international training exercises. He said that new training programmes would put greater emphasis on professional development of the SPDF officers to ensure that they remain a modern and effective force.
Following the ceremony, President Michel congratulated the officers on their promotions and wished them every success in their military career.
Editor's Note