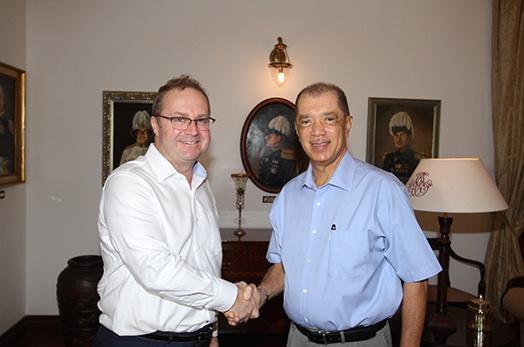 Seychelles-IMF partnership continues to strive for sustainable economic progress for the Seychellois people
Fri, 18 March 2016
President James Michel met with the Executive Director of the International Monetary Fund, Mr. Barry Sterland, at State House this morning. Mr Sterland represents the Asia-Pacific constituency of countries at the IMF, comprising of Seychelles, Australia, Kiribati, Korea, Marshall Islands, Micronesia, Mongolia, New Zealand, Palau, Papua New Guinea, Samoa, Solomon Islands, Uzbekistan, Tuvalu and Vanuatu.
President Michel thanked the IMF for its continued support in the Seychelles economic reform programme. He said the partnership is a fruitful and exemplary one, which shows the IMF's confidence in Seychelles and its ability and determination to pursue reforms for sustained and inclusive growth.
"The way forward continues to be challenging, but we remain optimistic that our strong fiscal and monetary policies, legal frameworks and bold decisions that we continue to take, will ensure that we continue to make further sustainable economic progress for the benefit of the Seychellois people," said President Michel.
Speaking to the national media after meeting, Mr. Sterland said that he spoke to the President about the changes taking place in the international economy and the potential impact on the Seychelles economy.
"The Seychelles' performance in the past has been well noted in the IMF, with very strong reform performance and I think that resilience needs to be maintained to guard against some of the downside risks that are becoming apparent in the international economy," said Mr. Sterland.
Also present at the meeting, was the Minister for Finance, Trade and the Blue Economy, Mr. Jean-Paul Adam, the Governor of the Central Bank of Seychelles, Ms. Caroline Abel, the President's Diplomatic Adviser, Ambassador Callixte D'Offay and the Adviser to the Executive Director at the International Monetary Fund for the Asia-Pacific constituency, Mr. Ronald Cafrine.