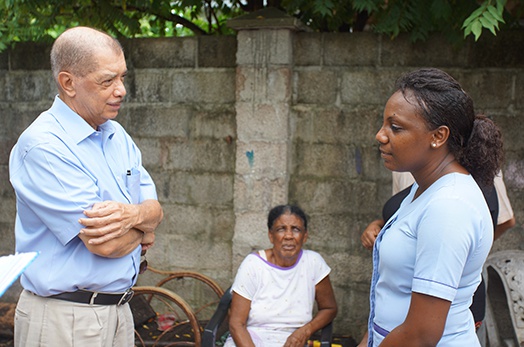 President visits the Grand Anse Praslin community
Fri, 22 April 2016
President James Michel visited several families in the Grand Anse Praslin district yesterday. This forms part of his on-going programme to stay connected with the communities as well as to assess the level of progress and services that the different agencies and Ministries have been delivering based on his first 100 days commitment as well as the Government's 3 months action programme.
The President said he is satisfied with the visit as it has given him an indication of how well the programme is doing and what can be done to improve it.
During his visits, President Michel met families and discussed issues such as housing, agriculture and health.
The President was accompanied by the Minister for Community Development, Social Affairs and Sports (Designated Minister), Mr Vincent Meriton, the Secretary General in the Office of the President, Mrs. Lise Bastienne, Member of the National Assembly for Grand Anse Praslin, Hon. Marc Volcere, Director General Public Affairs in the Office of the President, Mrs. Doreen Arnephy and the District Administrator for Grand Anse Praslin, Mr. Moses Barbe.