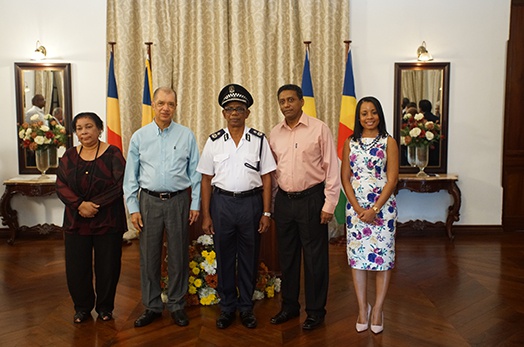 New Police Commissioner Reginald Elizabeth sworn-in
Fri, 17 June 2016
The New Commissioner of Police, Mr. Reginald Elizabeth, took his official oaths of Office before the President of the Republic, Mr James Michel, at State House today, and in the presence of the Vice-President, the Speaker of the National Assembly, the President of the Court of Appeal, the Chief Justice of the Supreme Court, the Minister of Home Affairs, the Attorney General, judges and a member of the Constitutional Appointments Authority, the retiring Commissioner of Police, as well as the Deputy Commissioner of Police.
Commissioner Elizabeth has 42 years' service in the Seychelles Police Force, where he has gained wide experience.  He has specialised in forensics and scientific support areas, where he has been instrumental in capacity building and innovation.  He was until recently the Assistant Commissioner of Police.
The President congratulated Commissioner Elizabeth on his appointment and said that the experience he has acquired in over 42 years in the Police Force will help him to deliver and serve the Police Force and the people of Seychelles.
"I thanked the President and the Minister of Home Affairs for believing in me.  I shall do my best to discharge my responsibilities. I know that there are many challenges ahead and I will need the support of everyone in the Police Force as well as members of the public. My priority, as I take up this new post, is service delivery in the Police Force at all stages and for Police Officers to become more professional," said Commissioner Elizabeth in an interview with the press after the ceremony.