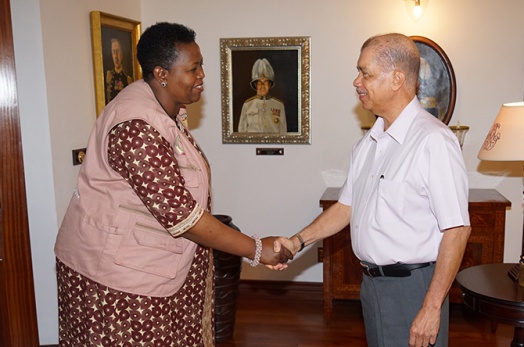 President Meets with AU Election Observer Mission- first all-female team
Wed, 07 September 2016
President James Michel met H.E. Ambassador Fatuma Ndangisa, the Head of African Union Electoral Observation Mission to Seychelles, who was formerly Rwandan's first ambassador to Seychelles, and also the former Chairperson of the African Peer Review Panel of Eminent Persons of the African Union, at State House this afternoon. Ambassador Ndangisa was accompanied by other members of the AU mission.
The President and Ambassador Fatuma Ndangisa discussed the work of the first ever African Union all female Election Observation Mission to Seychelles for this week's Parliamentary Elections.
They also spoke about women empowerment and strengthening democracy in Africa.
"We recognise the important role played by the African Union in the monitoring and observing of elections in the countries in Africa.  We are pleased to welcome, an all-woman observer mission, that you are deploying in Seychelles.  This is particularly relevant as Seychelles is one of the leading countries in women's participation in politics.  Seychelles ranks number 2 in Africa after Rwanda with the highest number of women parliamentarians," said President Michel.
Speaking to the press after the meeting Ambassador Ndangisa said that on behalf of the African Union Election Observer Mission, she has wished the President a credible and peaceful election.  She noted that the mission comprises African women of different sectors in society, such members of the parliament, ambassadors, civil society and members of the election management bodies coming from 21 African countries.
"We are going to deploy our 26 observers to the main island, so in all the 23 constituencies we shall have our representatives observing. Tomorrow there will be special voting for special groups, we are going to send our observers and we hope on 12th September we should be able to issue our preliminary findings to the public and also to the media and in two months to come we should be able to send a comprehensive report to the Republic of Seychelles," said Ambassador Ndangisa.
Also present were the Minister for Foreign Affairs and Transport, Mr. Joel Morgan, the President's Diplomatic Adviser, Ambassador Callixte d'Offay, the AU Special Envoy on Women, Peace and Security, Mrs. Ndeye Bineta Diop, Member of the AU Permanent Representative Committee, Ms. Tassyla-YE-Doumbeneny, the Deputy Chairperson of the Women's Caucus of the Pan-African Parliament, Hon. Cecilia Chazama, Member of the AU ECOSSOC, Ms. Fatuma Karadja  and other members of the AU Observation Mission.