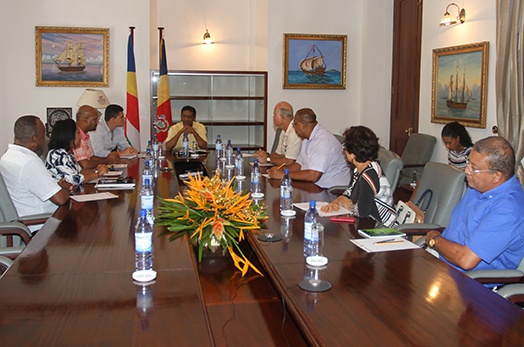 President Faure Meets with Society for Authors and Composers
Thu, 10 November 2016
President Danny Faure met with the chairman of Society for Authors and Composers (SACS), Mr. David Andre, and its members at State House yesterday.

As he welcomed them to the meeting, the President noted the determination of the artists to establish the society here in Seychelles and the important role that it has to protect the rights of authors and composers.

He assured them of the government's commitment to support SACS with the implementation of the rights they administer.

During the meeting, Mr. Andre and the other members of the SACS shared various challenges and concerns with the President. These included how the government can help in protecting the songs written by musicians and preserve them over time, the collection of royalties, the broadcasting policy, a request for a grant from the government to assist in the running of SACS, gathering of information from Seychelles Broadcasting Corporation, staff training and re-evaluating the compliance system for places that provide entertainment such as hotels, bars, and restaurants to respect the appropriate tariffs.

"We have to support SACS as it has a legal framework with international norms to follow as a member of the International Confederation of Authors and Composers Societies. It is important for the rights of authors and composers to be respected and the Society for Authors and Composers is there to protect the interests of those artists. The government is therefore committed to ensure that SACS is given all the support necessary to be able to protect the interests of its members at all costs; and to collect the rights from music users on behalf of its members," said the President.

Also present at the meeting was the Chief of Presidential Protocol Affairs, Mrs. Jaqueline Moustache-Belle, the Deputy Chief of Presidential Protocol Affairs, Mr. Larrey Chetty, and Economic Advisor to the President, Mr. Bertrand Belle.