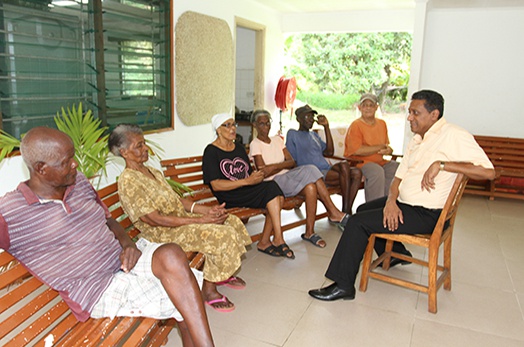 President Pays Surprise Visit to Anse Royale Home for the Elderly
Sun, 20 November 2016
President Danny Faure paid a surprise visit to the residents of the Anse Royale Home for the Elderly this morning. The visit was an opportunity for President Faure to spend a little time with the elderly and also see first-hand the living conditions at the home.

During his tour, President Faure affirmed that there was an important reason why the government decided to build such homes that cater for the country's older people, and that it is essential to ensure that the facilities meet the standards; that there is regular maintenance and the right structures are in place to ensure continuous support for the residents.
"I see the residents are very happy here, but we need to ensure that we can guarantee that at their retirement age our elderly can continue to have the comfort that they deserve, we need to continue to show respect for our older citizens and we must ensure that they live with dignity," said President Faure.
He continued, "For example during the visit this morning, we have found out that during the weekend we have only one carer who does everything including the cooking at the home, but there is a need to have a second person on duty to tend to the other needs of the residents."
Other areas identified by President Faure that require immediate attention is the setting up of a water heating system, whereby all the units of not only the Anse Royale home but also all the Elderly Homes in Seychelles are equipped with a new Solar Water System.
President Faure also expressed the urgent need for a more integral work approach with the Elderly homes, with greater interconnection of other required services such as health care. For example, ensuring the regional Health Centres conduct more regular visits for medical follow-ups with people living in the homes.
President Faure said his visit to the Anse Royale Elderly home was well worth taking the time from his busy schedule for. "I am happy that I made time on a Sunday to come and visit them and I feel they were very happy to see us. It was also encouraging to hear from the residents that their families make the time to visit them and I think this is brilliant. They should continue and this should not only apply for our elders that are staying in Government homes, but all of us who have elders in our family should make the time to see them," said President Faure.
During the visit, the residents also had the opportunity to discuss other pertinent matters they feel are affecting them as well as share their wisdom, good memories and life experiences with President Faure.