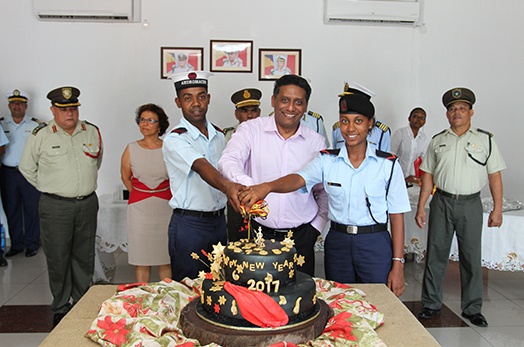 President Faure Attends SPDF Gathering for New Year Celebration
Thu, 05 January 2017
The President of the Republic of Seychelles and Commander-in-Chief of the Armed Forces, Mr Danny Faure, attended the traditional Seychelles People's Defence Forces (SPDF) New Year's Day gathering at the Seychelles Defence Academy at Ile Perseverance this morning.
The President was greeted by a Guard of Honour and welcomed by the Chief of Defence Forces, Brigadier Leopold Payet, Deputy Chief of Defence Forces, Col Clifford Roseline, Chief of Staff, Col Michael Rosette, and other senior officers of the Defence Forces.
The annual event began with a sermon by Deacon Louis Agathine, followed by the announcement of promotions for 12 military officials who were advanced to new ranks.
In his address, President Faure expressed his admiration for all those in the defence forces and thanked them for their sacrifice, devotion, and hard work. This year the SPDF celebrates 40 years, and the President pledged his support and commitment to further consolidate the structure of SPDF and ensure its development, in line with the values of good governance, accountability, and transparency.
The President also thanked the families of those in the SPDF for their patience and support, and Brigadier Payet and his team for their leadership. The President's address was followed by the traditional cake-cutting ceremony and a performance by the Children's Brass Band.
Also present at the celebration this morning was the Chief of Defence Forces, Brigadier Leopold Payet, as well as high ranking officers of the SPDF, all the units of the Armed Forces and officials from the Office of the President.