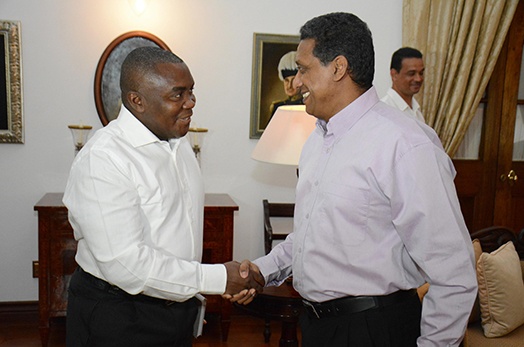 FAO Regional Representative Pays Courtesy Call on President Danny Faure
Tue, 07 February 2017
President Danny Faure received the Food and Agriculture Organisation (FAO) Regional Representative to Madagascar, Comoros, Mauritius and Seychelles, Mr Patrice Talla Kakoukam, at State House this morning. Mr Talla is on an official visit to the Seychelles where he is meeting with high officials in government as well as farmers.
The President expressed the government's appreciation for the engagement of FAO in Seychelles during Mr Talla's current tenure as the FAO Country Representative for Seychelles. He noted that the country is committed to addressing priorities set by FAO as per the 'Seychelles National Investment Agriculture Plan'.
During the meeting they reviewed the work that FAO has been doing in Seychelles and discussed how FAO can further collaborate with Seychelles in improving the agricultural sector.
Furthermore, the President and Mr Talla spoke about the challenges that Seychelles faces as a Small Island Developing State, which has brought numerous setbacks in the sector, and the way that FAO can support in ensuring food security, nutrition and capacity in Seychelles bearing in mind the economy of the country.
Mr Talla also conveyed a congratulatory message on behalf of the Director General of FAO of the United Nations, Mr José Graziano Da Silva, to President Danny Faure.
Speaking to the local media after the meeting, Mr Talla said that it is a priority for FAO to help Seychelles' government improve its agricultural sector. He mentioned that FAO assisted in providing a strategic policy document, namely the 'Seychelles National Investment Agriculture Plan', and highlighted how important it is for FAO and Seychelles to work together in order achieve those priorities.
"There is potential for agriculture in the Seychelles, even though the country faces serious issues in terms of scarcities of agricultural land and also for many years, this sector was not really given the priority that it should have been given. The country has been importing for many years and more than 70% of the people are consuming this. The importation of food not only has an impact on the population but also on the economy, because a lot of resources are used. Given the fact that you import food a great distance, this also has an impact on the health of the population," said Mr Talla.
Also present at the meeting was the Special Advisor for Department of Agriculture, Mr Antoine-Marie Moustache, Diplomatic Advisor to the President, Ambassador Callixte D'offay, and Chief Press Secretary in the Office of the President, Ms Nadine Jack.