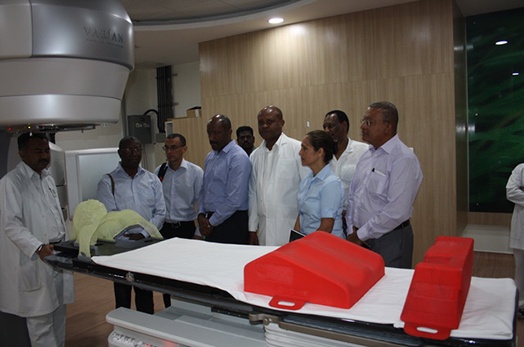 Vice-President Meriton visits the Madras Institute of Orthopedics and Traumatology (MIOT) in Chennai India
Sun, 12 February 2017
The Vice-President, Mr Vincent Meriton has visited the Madras Institute of Orthopedics and Traumatology (MIOT) in Chennai India.
During his tour of the facilities at MIOT Hospitals, the Vice-President also took time to visit eighteen Seychellois, including two babies, who are undergoing specialised treatment at MIOT International hospitals. The Seychellois patients told the Vice-President that they were satisfied with the quality of health care. Each patient is also accompanied by an attendant who is either a spouse or relative.
For the last 10 years the Government of Seychelles has had a Memorandum of Understanding with MIOT hospital for specialised treatment of Seychellois.
Amongst the facilities visited at MIOT hospitals were a PET CT Scan that uses cutting edge nuclear technology for diagnosis and specialised treatment for cancer. The Vice-President was also shown a state-of-the art True-Beam machine that uses radio therapy for treatment of cancer. The tour also included a visit to the hospitals' high-tech laboratory that operates 24 hours a day and is ranked 8th in the world.
Vice-President Meriton also met briefly with the Chairman of MIOT International, Mrs Mallika Mohandas.
The Vice-President, will be the Chief Guest at the commemoration of MIOT 18th Founder's Day on the 12th of February. He is accompanied by the Principal Secretary for Health, Dr Bernard Valentin, and the Deputy CEO of the Health Care Agency, Dr Danny Louange. Vice-President Meriton will also be conducting discussions on cooperation between MIOT and Seychelles.