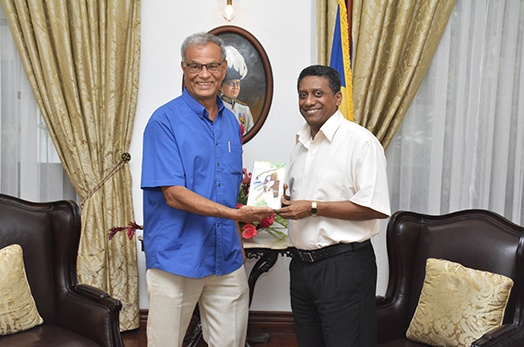 Seychellois Author Mr Grandcourt Pays Courtesy Call to President Faure
Fri, 17 February 2017
The Seychellois author of the book entitled 'Beyond the Horizon', Mr Robert Grandcourt, paid a courtesy call to President Danny Faure at State House this afternoon. The historical novel was launched this month.
The President congratulated him on his achievements and said that the book will be made accessible to all private and public schools in Seychelles.
"You have taken the time to write the book for the generations to come and I believe that it is important that we encourage more Seychellois to write. You have taken this path and I am there to make it available to our young people," said the President.
Mr Grandcourt commended the President for the work that he is doing for national unity in Seychelles and expressed his admiration for his efforts. As he briefed the President on the book he wrote, he noted that it took him five years to write after a lot of research and that it has come at an opportune time as it talks about the history of Seychelles.
An economist by profession, Mr Grandcourt has held many senior posts in the government and has also worked in international institutions, such as the African Development Bank (ADB), and has served as the chief of the African section of UNICEF.