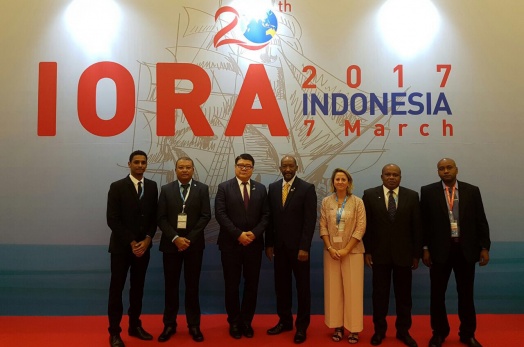 Seychelles and the 20 Member States of the Indian Ocean Rim Association (IORA) Adopts and Signs Historic Jakarta Concord
Wed, 08 March 2017
Vice-President Vincent Meriton and his delegation attended the first Leaders Summit of the Indian Ocean Rim Association (IORA) in Jakarta, Indonesia on the 07 March 2017, commemorating the 20th anniversary of Indian Ocean Rim Association.
The IORA Leaders Summit, the first of its kind, was officially opened by H.E Joko Widodo, President of Republic of Indonesia and was attended by Heads of States and Governments who signed the Jakarta Concord which aims to "Promote Regional Cooperation for a Peaceful, Stable and Prosperous Indian Ocean".
In his address, the Vice President "commended the collective efforts of IORA member states and the secretariat in the finalization of the Concord and welcomed its signing at this summit". He also announced that the "Seychelles is hosting the Regional Coordination and Operational Centre under the MASE programme" and laid emphasis on the necessity to promote actionable Sustainable Development programmes and regional partnerships on Blue Economy, Blue Carbon and marine pollution in the region.
The Summit was preceded by the Senior Officials Meeting (SOM) on the 5 March and the Council of Ministers (COM) meeting on the 06 March, during which the IORA Action Plan (2017-2021) and the Declaration on Preventing and Countering Violent Extremism were approved. A Business Summit highlighting a Trade Exhibition which included the participation of some 300 businesses from the region was also organized.
The Vice President held several bilateral meetings in the margins of the Summit. These included the President Joko Widodo, (Indonesia), HE Dr Ali Mohamed Shein, (Presidency of Zanzibar), HE Mr Jean-Marie Le Guen the Minister of State for Development and Francophonie of the Republic of France, HE Maitha Salem Shamsi, Minister of State of the United Arab Emirates (UAE) and the Secretary General of IORA, Ambassador K Bhagirath. Commitment to further cooperate and develop programmes in the sectors of women empowerment, fisheries, blue economy and Sustainable development featured in the discussions.
IORA remains committed on building economies of Small & Medium Enterprises (SMEs) within member states especially in empowering women and youth. Seychelles, as a founding member of the Forum on SMEs Africa-ASEAN (FORSEAA) ensured the participation of the Secretary General of FORSEAA who is also the Special Envoy for Seychelles to ASEAN (H.E Ambassador Nico Barito).
The Seychelles delegation to IORA summit and meetings comprised of Principal Secretaries Volcere and Loustau-Lalanne, H.E Ambassador Nico Barito, Mr Larrey Chetty (Deputy Chief Presidential Protocol Affairs) and Mr. Kevin Romain (IORA Desk officer at the Department of Foreign Affairs).