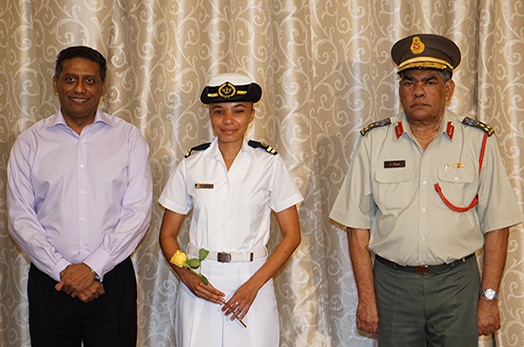 President Faure Promotes Officer of the Seychelles Coast Guard on International Women's Day
Wed, 08 March 2017
The President of the Republic of Seychelles and Commander-in-Chief of the Armed Forces, Mr Danny Faure, had the honour to promote SCOW 1171, second Lieutenant Connie Anthony to the rank of Lieutenant. This auspicious ceremony was one of the events held at State House today to mark International Women's Day.
The ceremony was witnessed by the Chief of Defence Forces, Brigadier Leopold Payet, Deputy Chief of Defence Forces, Col Clifford Roseline, Chief of Staff, Col Michael Rosette, Commander of the Seychelles Coast Guard, Col Simon Dine and other senior officers of the Defence Forces as well as participants of the roundtable discussion to commemorate International Women's Day.
On this momentous occasion, the President congratulated Lieutenant Anthony for her achievement and wished her success in the noble task that she is undertaking.
Currently the Second-in Command of Seychelles Coast Guard patrol ship 'Etoile', Lieutenant Anthony joined the Defence Forces on 7 March 2011 from the then Maritime Training Centre. In the same year, she completed her basic military training and given her career choice, she was posted on board Patrol Boat 'Le Vigilant' as a Navigator in September 2011.
From January to July 2012, she attended the 'Brevet D'Aptitude Technique' course with the French Navy in France. In February 2013, she was selected to attend the 'Initial Naval Officer Course' at the Britannia Royale Naval College, Dartmouth in the United Kingdom, which also took her on a deployment to the Philippines on board a Royal Navy ship, where she participated in disaster relief operations to assist victims following the devastation of 'Typhoon Haiyan'.
She was commissioned as Second Lieutenant in SPDF on 19th December 2013 and attended a Sub Lieutenant Course in the UK from 12 October 2015 to 22 January 2016.
Speaking to the local media after the ceremony, Lieutenant Anthony said that the promotion came as a surprise and that she will continue the hard work in order to progress in her career at the Seychelles Coast Guard.
"I always wanted to do something different in my career. I am proud of the level I have reached, and I would like to encourage more women to work hard and be successful in any career path. Being the only women onboard 'Etoile', I have good working relations with male colleagues and they are always there to support me," said Lieutenant Anthony.