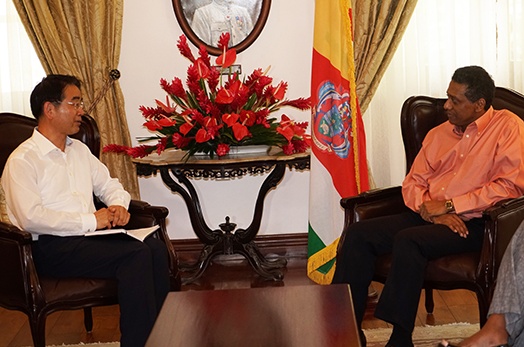 Courtesy call by IMF mission's new head to Seychelles
Tue, 21 March 2017
President Danny Faure received the Executive Director at the International Monetary Fund (IMF) for the Asia-Pacific constituency who is also the new IMF head to Seychelles, Dr Heenam Choi, at State House today. He was accompanied by the Advisor to the Executive Director at the International Monetary Fund for the Asia-Pacific constituency, Mr Ronald Cafrine.
Dr Choi is currently in Seychelles to conduct meetings with officials in the Government and to appraise the economic performance of the country.
President Faure welcomed Dr Choi on his first visit to Seychelles and expressed his appreciation for the fruitful partnership between Seychelles and IMF since it started the macroeconomic reform programme in 2008.
"Your visit here is at a time where we have a new political landscape. As a country, 2018 will mark 10 years since we embarked on the macroeconomic reform programme. For the last 9 years we have implemented sound fiscal and monetary policies. Now we are looking at further consolidating what we have achieved and strengthening institutions in the pursuit of Transparency, Accountability and Good Governance," said President Faure.
Dr Choi who assumed his new responsibilities in November 2016, remarked how impressed he is with Seychelles' performance over the past years and voiced his hope that the country will be able to accomplish more under the leadership of President Danny Faure.
President Faure and Dr Choi discussed Seychelles' current economic issues at length. They spoke about how to make Seychelles more economically inclusive locally, issues with correspondent banking, the Extended Fund Facility (EFF) programme with IMF, and how IMF can assist the country in tackling its different financial agendas, among other matters.
Also present at the meeting was the Governor of the Central Bank of Seychelles, Ms Caroline Abel, Principal Secretary of the Ministry of Finance, Mr Patrick Payet, the Special Adviser to the President, Mr Hans Aglae, and the Economic Advisor to the President, Mr Bertrand Belle.