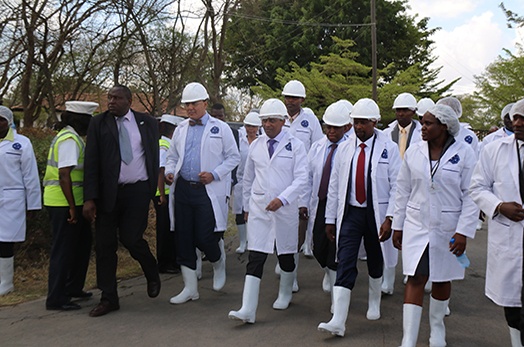 Updated Press Release - President Faure visits Kenya Meat Commission
Wed, 05 April 2017
Kenya, Machakos County 4th April 2017: The President of the Republic, President Danny Faure visited the Kenya Meat Commission (KMC) yesterday, as part of the activities scheduled during his first State Visit in Kenya.
The KMC Headquarters established in 1950 located in Machakos Country outside Nairobi, received President Faure accompanied by the Kenyan Tourism Minister Najib Balala for a tour of the facilities and further explore the possibilities of enhancing cooperation for the trading of agricultural meat products between Seychelles and Kenya. An agreement, derived following successful bilateral talks by President Faure and President Kenyatta on Monday.
Members of the Presidential Delegation currently in Kenya includesFisheries and Agriculture Minister Michael Benstrong; Tourism, Civil Aviation, Ports and Marine Minister Maurice Loustau-Lalanne, Foreign Secretary for the department of Foreign Affairs, Ambassador Claude Morel; member of National Assembly for Anse Etoile, Ahmed Afif; member of National Assembly for Anse Royale, Sylvanne Lemiel; National Drug Enforcement Agency (NDEA) chief executive Kishnan Labonte; chairperson of the Citizens Engagement Platform (Ceps) Jules Hoareau; chairperson of the Seychelles Chamber of Commerce (SCCI), Wilson Nancy and members of the national Seychelles press.