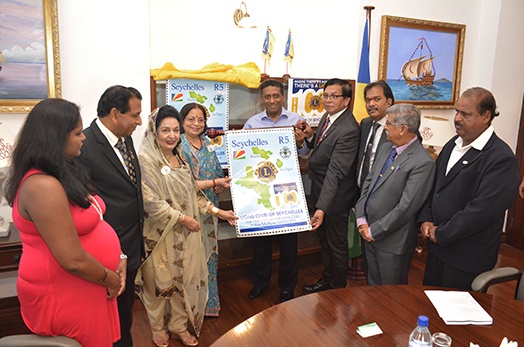 President Faure Meets Lions Clubs International Delegation Celebrating their Centennial
Tue, 30 May 2017
President Danny Faure received the Director of Lions Clubs International, Mrs Aruna Oswal, at State House this morning. She was accompanied by the District Governor for Kenya, Seychelles, and Ethopia, Mrs Jiza Chaudri, and members of the Lions Club of Seychelles.
The President praised the work of the Lions Clubs in Seychelles and their active volunteerism. He reiterated the Government's commitment to support the initiatives of the many charitable projects by Lions Clubs in Seychelles that improve sectors such as education and health, and the welfare of the less vulnerable.
As the Lions Club International celebrates its 100 years of service today, President Faure was honoured to receive the official stamp of the Lions Clubs of Seychelles. The President commended them for the numerous programmes they have been doing around the world, and changing lives for 100 years through humanitarian service.
During the meeting, the members also briefed the President on the various activities that they have been able to undertake here in Seychelles as well as some of their local ongoing projects.
Editors' Note:
• The Lions Clubs International is the world's largest service club organisation founded in 1917, with a network in more than 150 countries including Seychelles. Its mission is to meet the needs of the communities on a local and global scale.