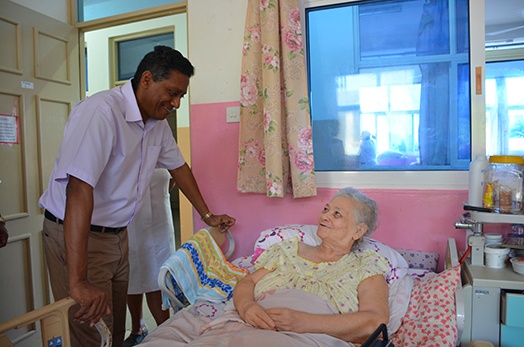 President Faure spends his morning visiting elders of Regional Homes
Mon, 19 June 2017
President Danny Faure spent his morning visiting elders living in two Regional Homes on Mahe; North East Point and La Retraite.
At the North East Point Home for the Elderly, President Faure had the opportunity to view first hand the environment and type of care the elders are receiving at the home and discussed with the Nurses and Staff on duty some of the pertinent challenges. The North East point Home for the Elderly is hosting a total of 131 residents most of which require medical treatments.
During his tour President Faure also spent some time interacting with the elders hearing their views and matters they feel are affecting them.
Leaving North East Point, President Faure paid a visit to residents of the La Retraite Home for the Elderly where he was briefed by the Carer on duty on the status and daily operation of the home.
The La Retraite Home currently has a total of 18 residents whom were delighted to receive a surprise visit from the President at their doorsteps. President Faure's visit gave the residents a chance to briefly chat or share some of their fondest memories with the President.
Please visit our State house Facebook Page for FULL photo gallery President Faure's Visit:
https://www.facebook.com/StateHouseSey/