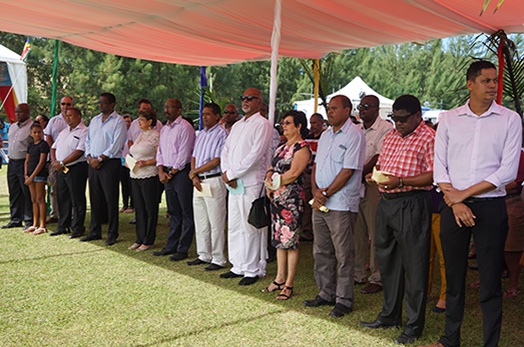 President Danny Faure attends Official Opening of Inner Islands National Day Show 2017
Sat, 24 June 2017
The President of the Republic, President Danny Faure attended the official opening of the 2017 Inner Islands National Show as part of the National Day Celebrations held on Praslin this morning.
The National Day Show is being organised under the banner theme "Inner Islands Celebrate Socio-Economic Progress" by showcasing displays of various economic activities and services available on Inner Islands as well as provide a platform for local businesses to market and enhance the sale of their products.
During her official launching speech which gave the Coup d'Envoi to officially open the National Show, Designated Minister, Mrs Macsuzy Mondon who is also the Chairperson of the National Celebrations Committee reaffirmed the government's commitment to continue to work to improve the environment for doing business, wealth generation and social development for Inner Islands. She urged those who are still on the side-line to exploit opportunities at their disposal on their respective island.
"I seize this moment to reiterate that Government will to continue to play an important role in the socio-economic progress of the Inner Islands. It will do it both alone and in partnership with the Inner Islands private sector. New policies of the national socio-economic sectors will set the tone for this partnership" affirmed Minister Mondon.
Following the official opening ceremony, President Faure and delegation visited the stands and viewed the exhibits depicting the efforts of individuals, groups or company inputs geared towards either wealth generation, social or environment protection of Inner Islands.
The Inner Islands National Day activities on Praslin, continues with a Gospel Show and other entertainment this evening, while the National Show exhibits and stands will remain open to the public until Sunday 6pm where an official closing ceremony will be held.
Also present for the opening ceremony on Eve island this morning, was the Vice-President, Mr Vincent Meriton, the Speaker of the National Assembly, Honorable Patrick Pillay, Ministers, Members of the National Assembly, members of the Diplomatic Corps and other distinguished guests.