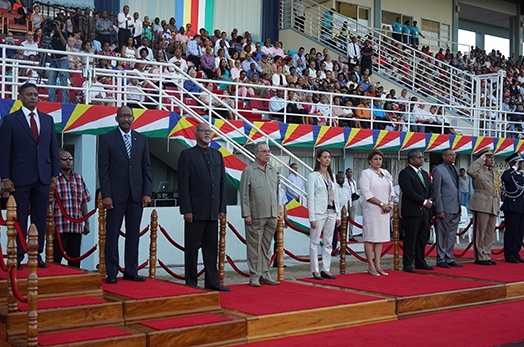 Seychelles Commemorates 41st Anniversary of Independence and National Day during Military Parade
Thu, 29 June 2017
The President of the Republic, President Danny Faure attended the National Day Military Parade organised by the National Celebrations Committee, to mark the 41st Anniversary of Seychelles' Independence, at Stad Linite (Unity Stadium) this evening.
For the first time during the National Day Military Parade, featured the symbolic presence of all the powers of the Republic standing alongside President Danny Faure for the Presidential salute including the Vice President, Mr. Vincent Meriton, the Speaker in the National Assembly, Honorable Patrick Pillay, the President of the Court of Appeal, Justice Francis MacGregor, Chief Justice of the Supreme Court, Dr Mathilda Twomey, the Designated Minister, Mrs Macsuzy Mondon, the Leader of the Opposition, Honorable Wavel Ramkalawan, the Leader of Government Business in the National Assembly, Honorable Charles Decommarmond, the Chief of Defence Forces Brigadier Leopold Payet and the Commissioner of Police Mr. Reginald Elizabeth.
The heartening National Day ceremony comprised a military parade accompanied by the National Band and featured the participation of local and foreign military forces, the police, Seychelles Fire & Rescue Services Agency, youth and civilian organizations, as well as a spiritual reflection by the Seychelles Inter-Faith Council.
The celebration also featured various performances and spiritual reflections echoing messages of patriotic themes and nation building.
Also present for the auspicious event were other High Government officials, members of the Diplomatic Corps and distinguished guests.
Following the Military Parade, celebrations for commemorate 29th June, continued until later in the evening with a Cultural Show, Fireworks display and  Night Fair.
Editor's Note:
Below are links to the Presidential Message on the Occasion of National Day 29 June 2017in all three Languages; English, French and Creole;
French: http://www.statehouse.gov.sc/messages.php?news_id=3492 Creole: http://www.statehouse.gov.sc/messages.php?news_id=3493 English: http://www.statehouse.gov.sc/messages.php?news_id=3491