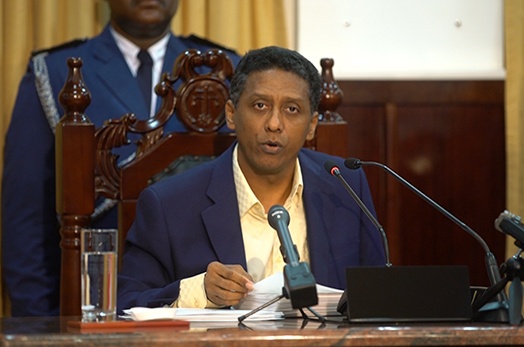 President Faure Addresses the National Assembly
Tue, 25 July 2017
President Danny Faure addressed the Seychelles National Assembly during a Sitting at Ile Du Port this morning.
During his address, President Faure announced several important decisions and measures on priority areas, forging his vision for the way forward for Seychelles.
President Faure elaborated on the various new measures and programmes to be guided by the three principles of transparency, accountability and good governance. He stressed on the role each Seychellois citizen has to play in ensuring these measure are effective and the long-term vision is achieved for the betterment of the people and the country.
"Good governance, transparency and accountability also apply to businesses, civil society and political parties. It is important as a society that these principles are promoted and reflected in organisations –economic, social, civic and political.  If we all support the development of our organisations along those principles, we shall contribute in increasing transparency, accountability and good governance," said President Faure.
"Our citizens also have a role to play in promoting transparency, accountability and good governance.  Any of our citizens who has a complaint, or any proof of any dishonest action, corruption, inappropriate action, abuse of power,  or where the law has been broken, or where human rights are being violated or abused – he or she should approach the institutions and authorities concerned, so that justice is done" the President added.
Some of the points discussed during the President's address included the appointment and functioning of Boards; demographic challenges including sustaining Seychelles' ageing population and catering for the youth and elderly; adoption of a healthier lifestyle; greater autonomy in educational Institutions; the economy in terms of promoting a more favourable business landscape for Seychellois Entrepreneurs; boosting agriculture and fisheries production, and increasing food security by encouraging greater participation of local producers; solutions to challenges in the housing sector; more coordinated efforts to fight drug trafficking and ways to tackle poverty.
The President also made a special call on the country's political leaders to work together and diligently fulfil what they have been mandated to do in their respective functions, whilst not losing sight of the true focus – the People.
"What is important is that we all discharge our responsibility according to the Oath we took. We do our work honestly and with sincerity. We put the interest of Seychelles and the Seychellois people above all other considerations. We work hard, very hard, for Seychelles.
We remain servants of the people.We are writing a new chapter. A very promising one for our country. In a Seychelles where we work together to overcome all our challenges. In a Seychelles where we show respect for all opinions. In a Seychelles that unites all of us despite our differences. In a Seychelles  where we all feel we can live free and proud. In a Seychelles that inspires the best in each one of us. In this Seychelles that will always remain larger than us all."
Read President Faure's FULL Address via State House Website Press Room in all three National Languages:
http://www.statehouse.gov.sc/speeches.php