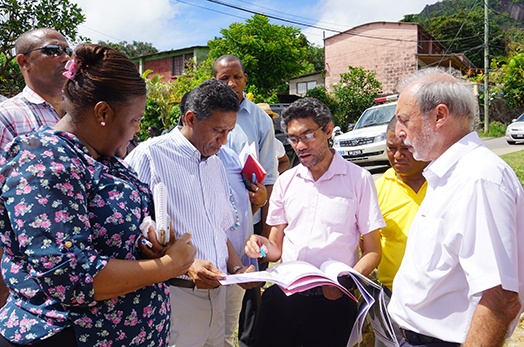 President Faure Visits Plaisance and Les Mamelles
Fri, 28 July 2017
President Danny Faure visited two districts this morning, Plaisance and Les Mamelles, as part of his weekly visits to the community.
Accompanied by a delegation of community leaders and key government agencies and services, President Faure obtained a first-hand view of the situation in the two districts and assessed the progress of various projects.
At Plaisance President Faure and his delegation visited a number of ongoing housing redevelopment projects such as the Belvedere Ex-Societe du Logement and the Police Quarters. The President also visited some families facing housing challenges.  The President also visited a child minding service, local businessmen, and the elderly, who are facing challenges.
He also visited locations being affected by social ills including drug trafficking and hot spots where people gather for anti-social activities.
At Les Mamelles, President Faure also visited some of the major housing projects such as the Upper Les Mamelles Village, where he viewed the completed first and second phases of Les Mamelles Redevelopment project. At Lower Les Mamelles village the delegation saw some of the low cost housing in need of urgent refurbishment as well as some of the hotspots where drug traffickers are affecting members of the Les Mamelles community.
The visit was also an opportunity for the President to visit the newly renovated Les Mamelles clinic that offers extra services including an antenatal department, dental therapy, a state of the art emergency room, and staff quarters.
President Faure also visited other residential locations with ongoing housing redevelopment projects such as 'Dan Kan', existing residential estates with sewage problems, and priority housing case in the sub-district of Les Mamelles at Basin Bleu.
In both districts, many residents took the chance to meet and talk to the President as he walked through their neighbourhood to share their concerns or make suggestions on ways to improve their community.
Following the site visits in both districts, all representatives from the ministries and agencies met for a debriefing session chaired by President Faure at the respective community centre where he thanked the Community Leaders for facilitating the visits. He urged the District Authorities along with all government partner agencies to adopt a more coordinated approach whilst working for the people in their communities.
Speaking to the press after the visits, the Principal Secretary for Infrastructure, Mr Yves Choppy, confirmed that many of the challenges being faced in the two districts are mostly related to infrastructure and housing. He said that the Government will be reviewing some of the existing upcoming housing project plans to expand some of these projects and increase the number of units so that more people can benefit.
Also present for the visit was Member of the National Assembly for Plaisance , Hon Clive Roucou, Member of the National Assembly for Les Mamelles, Hon Bernard George, Secretary of State for Poverty Alleviation Ambassador Dick Esparon, Principal Secretary for Local Government, Mrs Celine Vidot, Principal Secretary for Public Affairs, Mrs Doreen Arnephy, Principal Secretary for Infrastructure, Mr Yves Choppy, Principal Secretary for Social Affairs, Mrs Linda William-Mélanie, Principal Secretary for Family Affairs, Mrs Josée Bonne, CEO of Property Management Company, Mr Lenny Lebon, CEO of Seychelles Land Transport Agency, Mr Parinda Herath, NDEA Officials, Representatives of Health and Police, and District Administrators for Plaisance and Les Mamelles.
To view full photo gallery of the visit please click below link for Photo Gallery from the State House Facebook Page: https://www.facebook.com/pg/StateHouseSey/