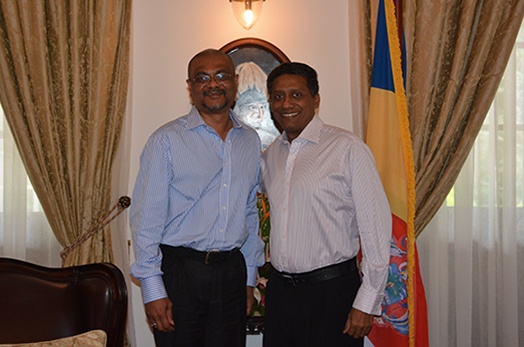 President Danny Faure welcomes first Seychellois Country Director for UN AIDS
Thu, 03 August 2017
The President of the Republic, President Danny Faure, welcomed newly appointed Seychellois Country Director for UN AIDS, Dr Jude Padayachy, at State House this morning.
President Faure congratulated Dr Padayachy on behalf of the Government and the people of Seychelles for his impressive achievement. "As the first Seychellois appointed to such a post for the Indian Ocean Region, it is a great honour for me to receive you today. You have made Seychelles proud," said President Faure.
During their discussion, President Faure shared with Dr Padayachy some of the local efforts being done in Seychelles in relation to HIV/AIDS and identified possible areas Seychelles can solicit the support of UN AIDS.
Speaking to the press after the meeting, Dr Padayachy said he is privileged as a Seychellois to serve in such a capacity and honoured to have been received by the President, as well as for the confidence shown in his abilities.
As the UNAIDS Country Director, Dr Jude Padayachy is responsible for Madagascar, Comoros, Mauritius, and Seychelles. He will be based in Madagascar during his tenure.