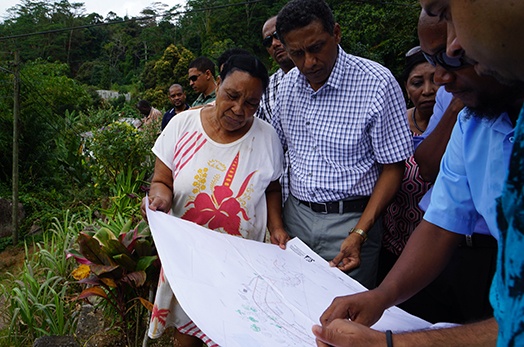 President Danny Faure visits Mont Buxton and St Louis Districts
Fri, 11 August 2017
President Danny Faure visited Mont Buxton and St Louis districts this morning as part of his weekly community visits.
Accompanied by community leaders and representatives of Government agencies and services, President Faure viewed key ongoing housing and road redevelopment projects in the two districts, including the completed Ex-Dominic Savio Housing Estate, thr Hangard Street redevelopment project, as well as the site for redevelopment of the Ex-Morel Housing Estate.
President Faure also got a chance to personally visit some of the priority cases of residents living in overcrowded emergency housing in both districts, as well social cases requiring relocation and Government assistance. Immediate directives have been given to the relevant authorities to relocate the families and individuals in critical need through Governmental social welfare schemes.
The President and his delegation also visited sites of major motor road access projects in 'Dan Lenn' at Mont Buxton, and at Belonie, which is expected to ease and improve commuting by vehicle for residents living in the area.
During the tour, President Faure personally saw some of the issues being faced by the community including unemployed youth, hot-spots of illegal activity, and abandoned private properties being used for drug-related activities and other anti-social behaviour.
In the St Louis district, President Faure was pleased to visit the 'Basin Playing Field' as the proposed site for a recreational centre set to encourage constructive leisure and healthy living activities for young people of the surrounding districts.
Following the visit, all members of the delegation met at the respective district community centres where decisions and courses of action were agreed upon. The critical priority cases requiring immediate action were finalised, as well as the necessary coordination between partners.
Whilst in Mont Buxton, President Faure took the opportunity to visit Mr Edward Rosette, a retired teacher who has contributed greatly  to his community and country. In the St Louis district, President Faure made a brief stop at the residence of Mrs Margaret Woodfield Pouponneau, a centenarian who will be celebrating 105 years on 15 August.
Also present for the visit was Member of the National Assembly for Mont Buxton, Hon. Gervais Henrie, Member of the National Assembly for St Louis, Hon. Sandy Arrisol, Principal Secretary for Infrastructure, Mr Yves Choppy, Principal Secretary for Local Government, Mrs Celine Vidot, Principal Secretary for Public Affairs, Mrs Doreen Arnephy, Principal Secretary for Social Affairs, Mrs Linda William-Mélanie, CEO of Property Management Company, Mr Lenny Lebon, CEO of Seychelles Land Transport Agency, Mr Parinda Herath, NDEA Officials, other representatives of services and agencies, and District Administrators for Mont Buxton and St Louis.
To view full photo gallery of the visit please click below link for Photo Gallery from the State House Facebook Page: https://www.facebook.com/pg/StateHouseSey/