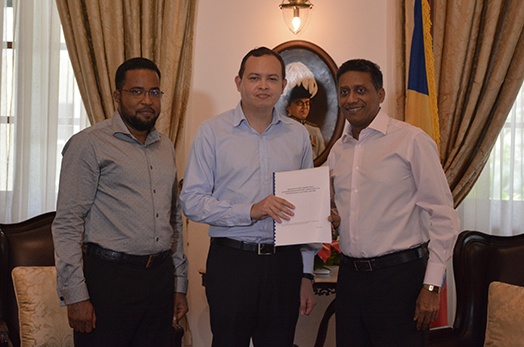 President Receives Report of the Committee's Investigations on Staff Complaints at the National Cultural Centre
Thu, 31 August 2017
President Danny Faure was presented with a report from the investigative committee on the staff complaints at the National Cultural Centre by Chairman Mr Divino Sabino and Dr Jastin Bibi at State House this afternoon.
The Committee was established by Instruments of Appointment signed by the President of the Republic on 18 April 2017. Chaired by Mr Divino Sabino, the committee also comprises of Ms Ivonia Richardson, Ms Cecile Decommarmond, and Dr Jastin Bibi. The committee spent over 4 months gathering extensive information and held interview sessions with over 100 members of both current and former staff at the building.
The report is a thorough investigation and assesses staff complaints and claims for compensation. It also includes recommendations on remedial actions. These recommendations will be presented at the next Cabinet Meeting on Wednesday 6 September 2017. The Report shall be made publicly available online thereafter.