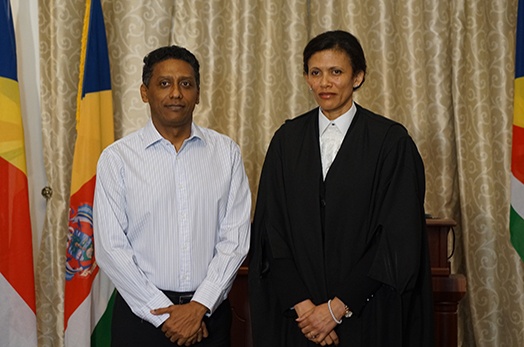 Judge Fiona Robinson sworn-in as Justice of Appeal
Wed, 06 September 2017
Judge Fiona Robinson was sworn-in as Justice of Appeal during a swearing-in ceremony held at State House this afternoon. She took the Oaths of Allegiance to the Constitution and the Judicial Oath before the President of the Republic, Mr. Danny Faure.
Judge Robinson's appointment follows recommendations made to President Danny Faure by the Constitutional Appointments Authority pursuant with Article 123 of the Constitution of the Republic of Seychelles.
She has a Masters of Laws in International Maritime Law with Distinction from the International Maritime Organisation-International Maritime Law Institute in Malta.  She also holds a Bachelor of Laws with Honours from the University of Mauritius.
Judge Robinson drafted a number of written laws during her tenure in the Chambers of the Attorney General. Judge Robinson is highly experienced in Maritime Regulations and delimitation of maritime boundaries having served on the High Level Committee on Piracy and as member and Legal Advisor to the Seychelles Maritime Delimitation Technical Committee, which prepared Seychelles' submission for an extended continental shelf concerning the Northern Plateau Region to the United Nations.
She also participated in negotiations with Mauritius for the purposes of setting up a joint taxation Mascarene Plateau Region and in drafting an Agreement Concerning the Establishment of a joint Management Area in the Mascarene Plateau Region. She was appointed Judge of the Supreme Court in January 2013.
Also present for the ceremony was the Vice-President, Mr. Vincent Meriton, the President of the Court of Appeal, Justice Francis MacGregor, the Chief Justice of the Supreme Court, Justice Mathilda Twomey, the Designated Minister, Mrs Macsuzy Mondon, the Leader of the Opposition, Honourable Wavel Ramkalawan, Leader of Government Business, Honourable Charles Decommarmond, Judges, Secretaries of State, Deputy Speaker of the National Assembly, Honourable Nicholas Prea, Members of the Constitutional Appointments Authority, relatives and colleagues of Justice Robinson and other distinguished guests.
Judge Robinson replaces Judge January Henry Msoffe, whose term of office in the Seychelles Court of Appeal ended on 14th August, 2017.