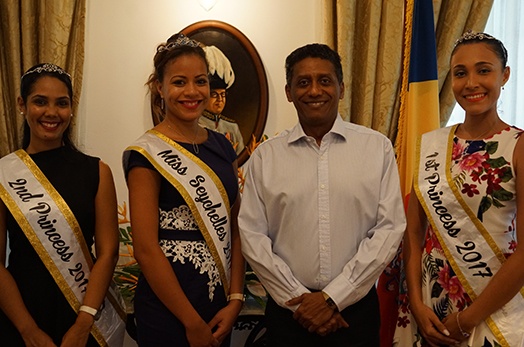 President Faure receives Miss Seychelles Another World 2017
Fri, 08 September 2017
President Danny Faure received Miss Seychelles Another World 2017, Miss Hillary Joubert at State House this afternoon. Miss Joubert was accompanied on her courtesy visit at State House by First Princess, Miss Petra Tamatave, Second Princess Miss Sarah Jumaye, the Chief Executive Officer of Creative Industries and National Events Agency (CINEA), Mr Galen Bresson and CINEA Organising Official, Ms Sylvianne Moises.
President Faure commended the 14 contestants of the 2017 pageant for their courage and confidence to join the pageant and urged them to use their gifts and talents to make positive change and to continue bringing joy, hope and inspiration to other Seychellois young girls.
The President also thanked the organisers for grooming the contestants and making sure that the pageant is not merely a beauty competition but rather a journey of self-discovery.
The Miss Seychelles delegation thanked the President for welcoming them to State House and shared with him details of their respective projects and the contributions they would like to make for the benefit of Seychelles.
Miss Joubert will be representing Seychelles, at the Miss World beauty pageant to be held on November 18th in Sanya, China.