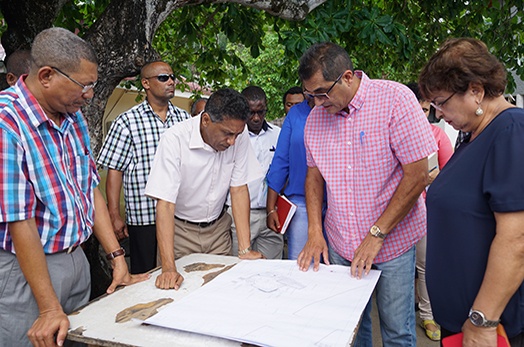 President Danny Faure visits Cascade and Pointe Larue Districts
Sat, 16 September 2017
President Danny Faure visited the districts of Cascade and Point Larue yesterday morning.
President Faure was accompanied on his tour by community leaders, representatives of district administration, and representatives of key services and agencies where he had the opportunity to view first hand the progress of district projects and discuss challenges and possible solutions from the technicians on site.
In the Cascade district, the President viewed Emergency Housing site where residents are awaiting to be relocated, the Asphalt Plant due for relocation, the pending road project at Anse Des Genets, some families facing social challenges, the Cascade Bridge with proposed plans for the de-silting of Cascade River Opening, and proposed developments at reclamation site at Cascade market. The President also viewed the proposed site for the 24 units in 24 months project.
In the Point Larue district, President Faure saw some of the progress the district has made in relation to housing and also visited the proposed site to improve accessibility for motorable road access at Caryole/Nageon Estate road to connect Point Larue, Anse Aux Pins, and Anse Des Genets. The President also paid a visit to elderly residents, some of the residents facing housing issues, social cases, and hotspots for antisocial activities.
In view of the low-laying nature of the Point Larue district, other challenges discussed included drainage and sewage, and possible options to resolve and improve future systems installed.
Following the tour at both Cascade and Point Larue, members of the delegation met at the District Administration office for a meeting to further discuss the coordination of decisions taken and establish a timeline for agreed actions.
President Faure thanked all representatives present for being proactive and urged them to maintain close contact and collaboration with all community partners in order to address challenges and improve the living conditions of communities.
Present for the visit was Designated Minister, Minister for Local Government and Home Affairs, Mrs Macsuzy Mondon, Member of the National Assembly for Cascade, Hon. Charles De Commarmond, Member of the National Assembly for Pointe Larue, Hon. Jude Valmont, Secretary of State Poverty Alleviation Ambassador Dick Esparon, Principal Secretary for Infrastructure, Mr Yves Choppy, Principal Secretary for Local Government, Mrs Celine Vidot, Principal Secretary for Public Affairs, Mrs Doreen Arnephy, Principal Secretary for Social Affairs, Mr Linda William- Melanie, Principal Secretary for Family Affairs, Mrs Marie-Josee Bonne, CEO of Property Management Company, Mr Lenny Lebon, CEO of Seychelles Land Transport Agency, Mr Parinda Herath, NDEA Officials and other representatives of services and agencies, and District Administrators for Cascade and Pointe Larue.
To view more photos of the President's visit, please click below link to State House Facebook Page:

https://web.facebook.com/StateHouseSey