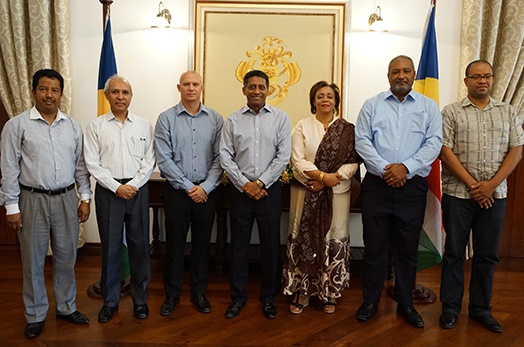 President Faure receives delegation attending Meeting for African Ministers of Health of SIDS
Tue, 26 September 2017
President Danny Faure received a delegation currently in Seychelles to attend the Meeting for African Ministers of Health of Small Island Developing States (SIDS), at State House this morning.
Accompanied by the Seychelles Minister for Health, Mr Jean-Paul Adam, members of the delegation included Minister of Health and Quality of life of Mauritius, Dr Mohammed Anwar Husnoo, Minister of Health of Cape Verde, Dr Arlindo Nascimento do Rosario, the Secretary General for Ministry of Health in Comoros, Mrs Moinour Ahmed Said Hassani, Director of the Central Hospital in Sao Tome et Principe, Dr Celsio Junqueira and the Director of Cabinet, Head of Malagasy Delegation, Professor Willy Frank Randriamarotia.
The delegation briefed the President on some of the key areas on the agenda for the sixth meeting of African Ministers of Health of Small Island Developing States. This will be taking place from 26 to 29 September 2017, at the Savoy Resort.
This is a forum initiated by the World Health Organisation to address the common challenges related to health faced by SIDS. It enables 5 countries in the Africa region (Cape Verde, Comoros, Mauritius, São Tome and Principe, and Seychelles) to exchange views and experiences as SIDS and to build resilience and sustainability.
During the meeting, representatives of the different island nations also shared and discussed with the President common public health challenges and the potential for greater exchange of strategies and best practices to improve public health standards in all countries.